Dan Mullen provides injury updates before Mississippi State's game against Auburn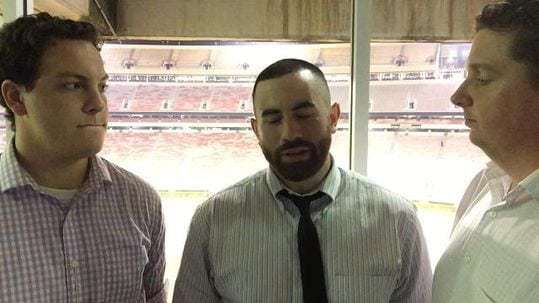 The Clarion-Ledger
STARKVILLE — Things don't get much easier for No. 24 Mississippi State as the Bulldogs visit No. 15 Auburn (3-1) Saturday (5 p.m., ESPN).
Mississippi State (3-1) is coming off a 31-3 loss against Georgia in Athens. The game against the Tigers is MSU's third straight against a top-25 SEC team.
Dan Mullen will talk to the media at 1 p.m. today.
Follow along for live updates.
Mullen calls this another "huge challenge," and again adds that he doesn't get why people would say the SEC is down.
Auburn is an explosive offense with a quarterback that is growing into the system. Mullen called Auburn's defense one of the best in the country because it has played different styles of teams and have dominated.
"I'm not waiting to get the national coach award this week," Mullen said in regards to the team not being too high or too low on itself through four weeks. He added that MSU didn't have as good a week of practice for UGA.
Stidham is getting more comfortable in Auburn's offense. AU is going to do a good job formation-wise and they Johnson is a long slasher whereas Pettway can hurt you inside.
It's unclear if Malik Dear will play. Mullen said he will see how Dear practices and it's up to where he is at health-wise and where he can be in terms of if he can get to.
By midweek, Mullen said he hopes to have Gabe Myles at practice.
Auburn's defensive front "has a bunch of really, really talented guys."
Mullen said he wants to get Cory Thomas back after the bye week.
Here is a transcpit of Mullen's press conference.
Opening statement…
"It's another huge challenge for our team. It's our third-straight week playing a top-15 team. Always a big challenge. We're playing three conference games against three top-15 teams in consecutive weeks, two of them on the road. It's a big challenge for us, obviously playing an excellent football team. They have an explosive offense. They've got some wideouts who can play down the field. They've got a quarterback that's starting to grow into the system of what they're doing and understand what's going on. They've got some great running backs. They give you different looks and a great combination of size, power and speed. Defensively, they are one of the top defenses in the country over the first couple weeks of the season. You see that in that they've played different styles of teams, and they've dominated the defensive side of the ball pretty much everybody that they've played. It's a great challenge for our guys to come off of last week's game and get back out there. It's a great opportunity for our guys to come out and play and get a win against a top-15 team on the road."
On establishing a mindset equilibrium with the team…
"I don't know that it has to be hammered home or established. I'm not waiting to get the National Coach of the Week award this week. There are a lot of coaches that do a great job, and I don't know that I deserved to get it last week. As you get in the room, you're never as good as everybody tells you when you're good, and you're never as bad as it is when everybody tells you that you're bad. You're somewhere in the middle. We're honestly just trying to improve and get better from week to week. You're really as good as your last play, and you're going to be as good as your next play. When you look as a whole at a team, you're as good as your last game or going to be as good as your next game. So that's really the focus with our guys. A couple weeks ago, we executed at an extremely high level. On Saturday we didn't execute and play as well, and that's all of us as a program. If we play really well, we get a great chance to win. If we play poorly, we have a great chance to lose. That's kind of the message to the guys; it's not a panic. It's like an equilibrium. It's always somewhere in the middle."
On if the atmosphere changed during practice leading up to Georgia…
"I thought that too, but that's a maturity thing with the team sometimes. I didn't think we had as good a week of practice last week as we did the week before. That's everything. You're talking to 18 to 22-year-old guys who have all kinds of things...