This Teen's Friends Did the Sweetest Thing When His Illness Interfered With Homecoming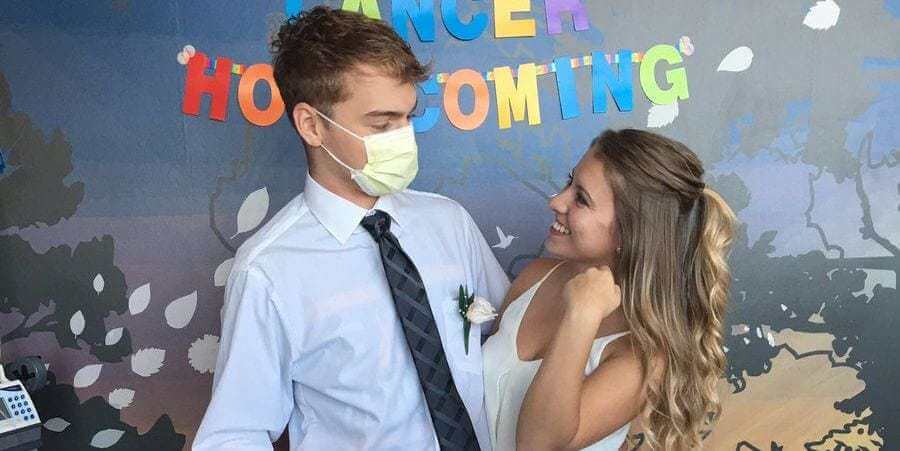 When Taylor Mounts, a 15-year-old high-school sophomore from Hilliard, Ohio, realized her brother Blake wouldn't get to go to his senior homecoming dance this Saturday, she rallied his friends and their family to bring the party to him at the hospital, where he's receiving his first chemotherapy treatment for acute myeloid leukemia.
About two weeks ago, the 17-year-old senior, who attends Hilliard Darby High School, was looking very pale when Officer Jon Gleason, a cop assigned to keep an eye on students, suggested he visit the school nurse. The nurse sent Blake to the family doctor, and he ultimately ended up at Nationwide Children's Hospital in Columbus, Ohio, where he was diagnosed with leukemia.
Blake might need one or two more rounds of chemo after he finishes his first 10-day treatment. Regardless, he'll need a bone-marrow transplant with an even stronger dose of chemo, according to his mom, Shelly Mounts, who says Blake's prognosis is unknown. "It's a long road ahead for our guy," she says. "But he's a fighter. And he's so positive."
Blake's support system is strong: Not about to let her brother miss a milestone during his hospital stay, Taylor — who's awaiting test results that'll determine whether she can donate bone marrow to her brother — joined forces with Kaitlin O'Connor, a 17-year-old senior at Hilliard Davidson High School whom Taylor says Blake had planned to ask to homecoming. With the rest of the Mounts family and hospital staff's cooperation, the girls arranged for 10 of Blake's closest friends to meet at...