Prep Football: McComb wins one for Jimmy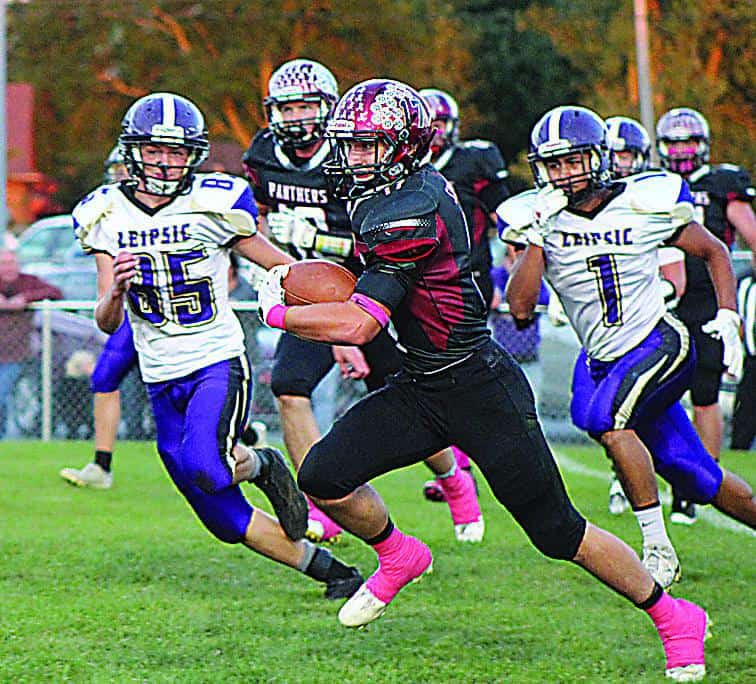 By MICHAEL BURWELL
Staff Writer
MCCOMB — McComb's 29-14 Blanchard Valley Conference football win against Leipsic on Friday night was special for several reasons.
For coach Kris Alge and his Panthers, they wanted to win for Jimmy.
"We had a No. 64 a few years back that we lost as a teammate. This one was for him," Alge said of James "Jimmy" Brown, a former McComb football player who died on June 16, 2015 in a work-related accident at age 20. "He loved playing Leipsic and he always played his heart out, Jimmy and (twin brother) Jerry (Brown) did against Leipsic.
"This one was for Jimmy tonight. We just know this is his game. He loves this game and we got a poster of him up in the weight room and they knew this week, fight a little bit harder. He's smiling down."
McComb, despite several injuries, costly penalties and turnovers on Friday, improved to 5-1 overall and remained unbeaten in the BVC at 4-0. Pandora-Gilboa (6-0, 4-0 BVC), which beat Vanlue 48-0, is the only other unbeaten team in BVC play.
The Panthers also stretched their BVC winning streak to 17 games. Their last loss was Week 10 in 2014 to Liberty-Benton.
A quick start and a strong finish was key for the Panthers on Friday.
McComb scored touchdowns on its first two possessions and scored the last 14 points of the game. The Panthers' ground game racked up 258 yards on 41 carries, while their defense held Leipsic to just 224 total yards.
In the fourth quarter with McComb clinging to a 15-14 lead, quarterback Cam Morris gave the Panthers a two-possession lead as he spun off a Leipsic defender and scored from 22 yards out on fourth-and-11.
Clay Santos, a 6-foot-1, 190-pound senior who normally plays wide receiver, scored on a two-point conversion run to give McComb a 23-14 lead with 8:37 left.
Santos played a big role in the second half, despite having two fumbles and losing one of them. He rumbled 10 times for 155 yards, including carries of 37, 24 and 45.
"Clay Santos hasn't run the ball all year, maybe one carry all year and we started hitting the leads and he ran hard," Alge said. "He fumbled the one but he came back and just kept running and we just kept giving it...