Brave breast cancer sufferers show their mastectomy scars in powerful images to prove they won't let disease define them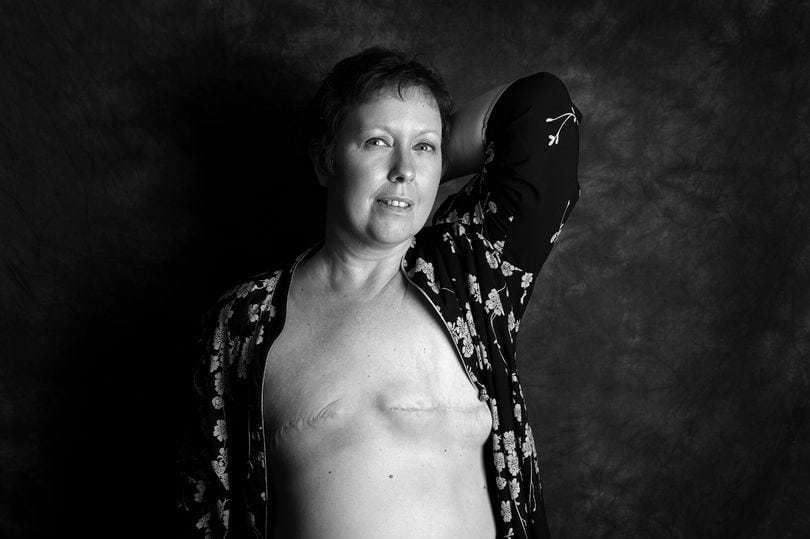 The powerful images show fourteen women who have stood up to cancer.
They bravely showed their mastectomy scars to prove to the world they would not be defined by the disease.
The women of all ages from across the UK took part in the inspiration photoshoot for Stand Up To Cancer, showing their surgical scars in a series of honest portraits.
The project, called 'Mastectomy', has been released as part of the Stand Up To Cancer campaign and marks the beginning of Breast Cancer Awareness Month.
Launched in the UK in 2012, Stand Up To Cancer is a joint fundraising campaign from Cancer Research UK and Channel 4, raising money to support game-changing cancer research that will help save lives.
Shot by Ami Barwell, 39, a York-based photographer, the project was inspired by Ami's mum, Sue, who was first diagnosed with breast cancer in 1993.
She underwent a mastectomy, followed by radiotherapy and chemotherapy, then in 2011 the cancer returned in her lymph nodes.
Sue, 69, was treated again with chemotherapy and has since made a full recovery.
Photographer Ami said: "It was absolutely devastating when my mum was diagnosed with breast cancer.
"I wanted to shoot this project to raise awareness and show the defiance of women who remain equally as beautiful without breasts."
"Stand Up To Cancer is about bringing people together to rebel and rise up against cancer.
"The photographs show that, despite what they've been through, these women are empowered. They are strong, happy and sexy."