Egg Allergy Alert – Royal Asia Shrimp Wonton Noodle Soup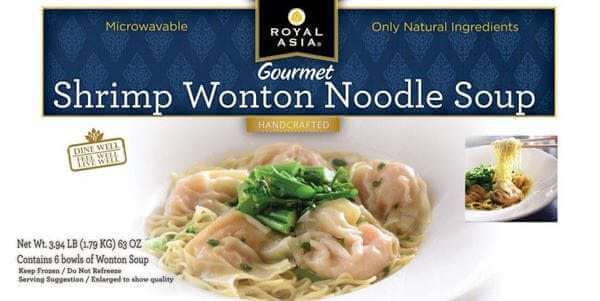 For Immediate Release
Contact
Consumers
Bart Cox
800-388-3666 #200
Announcement
TAI FOONG USA of Seattle, WA is recalling Royal Asia Shrimp Wonton Noodle Soup, because it may contain undeclared egg. People who have an allergy or severe sensitivity to egg or egg products run the risk of serious or life-threatening allergic reaction if they consume these products. Individuals who are not allergic to eggs may safely consume this product.
Product was distributed in Washington, Oregon, Montana, Idaho, Utah and Alaska and were purchased exclusively at Costco beginning January 2017.
Royal Asia Shrimp Wonton Noodle Soup; Net weight 3.94lb (1.79kg) 63oz; 6 bowl pack. One allergic reaction complaint...