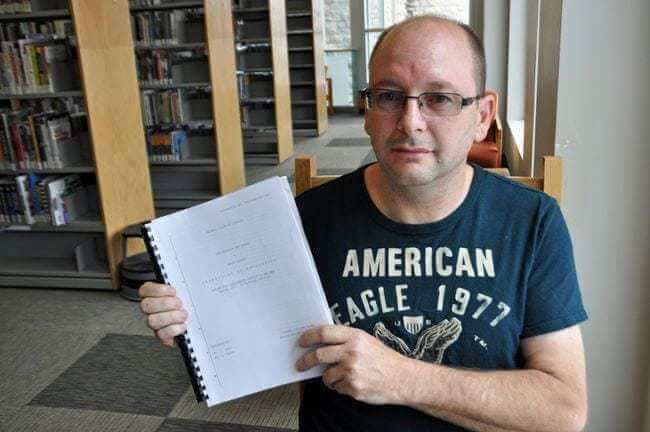 For Eric Barnett, it feels like the assault never ends.
While the first shots three years ago were fired during a fully physical confrontation with a violent psychiatric hospital patient, the second and ongoing hits tapped an emotional and mental vein he says has been fostered by his Penetanguishene employer.
As a registered practical nurse at Waypoint Mental Health Centre's forensics unit called the Atrium, Barnett said he's used to dealing with violent patients who can have regular outbursts and maintains he fully understands how to de-escalate situations that could easily get out of hand.
That's what seems to have happened one day in 2014 when patient Gavin Bowles attacked him for the second time in less than two weeks and "tried to gouge my eyes out."
Barnett, who intervened when he worried the patient might attack a female coworker, readily admits elbowing Bowles as an act of self-defence to try to stop the second attack.
But his employer saw things differently, according to Barnett, who feels it engaged in a campaign of harassment, bullying, defamation of character and professional misconduct.
A few days after the second assault, Waypoint management sent Barnett a letter saying that he would be suspended for three days because video evidence suggested he had actually assaulted Bowles.
That memo from a Waypoint senior manager stated: "Future incidents of similar behaviour will result in further disciplinary action up to and including termination."
However, Barnett maintains that if the hospital truly believed he had assaulted Bowles, it should have had him charged criminally.
"This raised a bunch of alarm bells," Barnett said during a recent interview at a nearby municipal library.
Barnett, 48, has worked at Waypoint for close to 16 years after transferring from a similar facility in North Bay.
"I'm good at my job and like it," Barnett said. "This has been extremely stressful. I've had a lot of trouble sleeping and took quite a bit of time off just because of the stress. I tried to work through it and work with them."
Barnett said Waypoint is employing something called 'progressive discipline,' whereby one is accused of something that "looks bad on your record, but give you a minimal punishment in hopes that you take it without complaining too much."
But if one leaves that negative report in the file, it makes it easier for them to fire an employee at a later date, according to Barnett, who noted that if Waypoint truly...