Opioid Prescriptions Are Declining — But Not Nearly Enough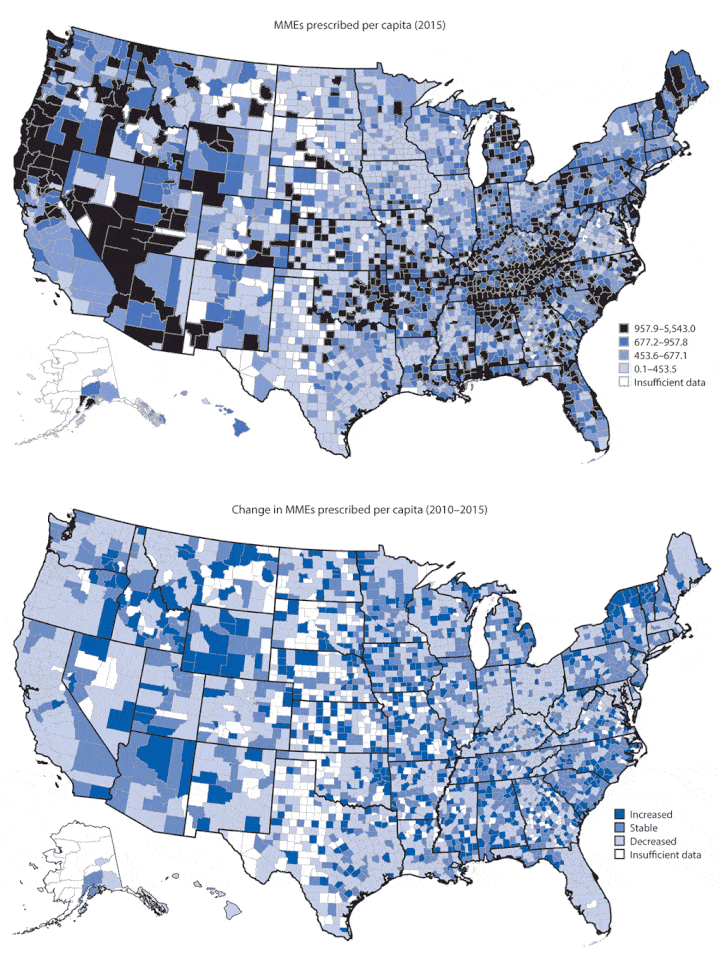 Despite the country's best efforts to curb opioid prescriptions in America, a new analysis suggests Americans still dramatically overuse the medications.
Data published this week by the U.S. Centers for Disease Control and Prevention found that the average amount of opioids prescribed per person in the United States essentially tripled from 1999 to 2015.
Researchers analyzed counties across the country based on the average amount of opioid prescriptions per person in order to reach their results. The opioids were measured in morphine milligram equivalents (MMEs), which accounts for the fact that different dosages or medications vary depending on the person.
Rural areas of the country, in particular, saw higher amounts of MMEs per person than bigger cities. The top 25 percent of the counties have residents that are mostly white, in poor health, and have lower income, according to the results.
But the good news is that efforts to address addiction are working. Despite the overall increase in the medications since 1999, the report did find prescriptions dropped nearly 20 percent between 2010 and 2015. The states where there's been a greater focus on addiction treatment, like Kentucky and Ohio, saw a decline in both prescriptions and opioid-related deaths in their counties, according to the results.
The amount of opioids prescribed in 2015 were approximately four times higher in the U.S. than in Europe.
Annual opioid prescribing rates increased from 72.4 prescriptions to 81.2 prescriptions per 100 people from 2006 to 2010. That figure remained stable from 2010 to 2012, then dropped to 70.6 prescriptions per 100 people from 2012 to 2015.
Larger amounts of opioids were prescribed in micropolitan counties (essentially areas with smaller populations) over the course of the report.
Counties with a higher prevalence of diagnosed diabetes...