Practitioner assists on disaster response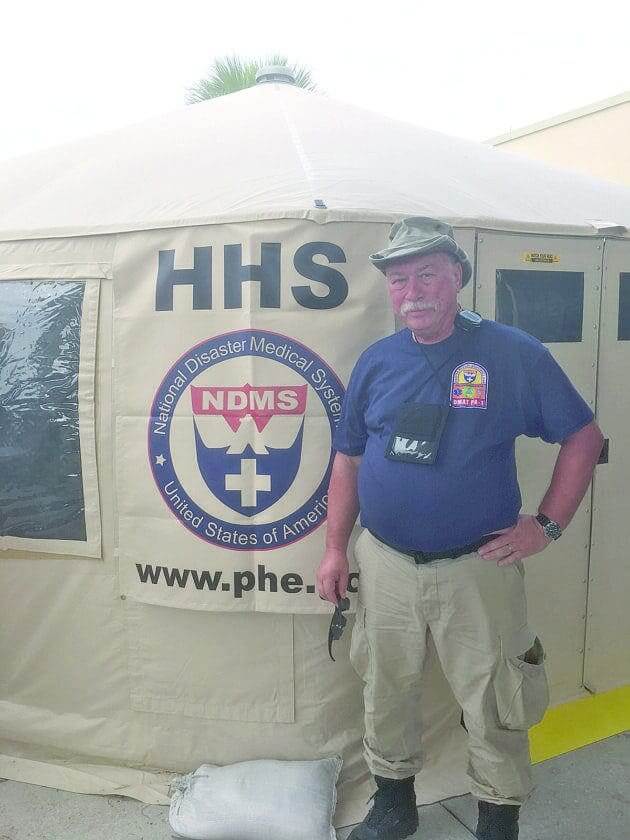 READY TO HELP — Michael Beach, a nurse practitioner from Steubenville, participates in a federal Disaster Medical Assistance Team. He has been deployed after four hurricanes, most recently for Irma in Florida. -- Contributed
STEUBENVILLE — Michael Beach, a nurse practitioner from Steubenville, faced logistical challenges in providing federal medical assistance in Florida after Hurricane Irma, but leaving the disaster scene proved to be the hardest part of his 15-day experience.
He said, "Although we are always anxious to go home at the end of a deployment, leaving is always the hardest thing for me to do. You get to know the people. You know that you are helping and, as much as you want to go home and sleep in your own bed, be with your family, have a home-cooked meal, it is very hard to leave the folks behind who you know are in need."
Beach, an assistant professor at the University of Pittsburgh's School of Nursing, has been a member of a Disaster Medical Assistance Team for seven years. He is assigned to the PA 1 Team, one of several teams organized by the National Disaster Medical System.
During a deployment, he said, "You're kind of on adrenaline the whole time you're there. It's really fulfilling. It's marvelous work. I love going on deployment with them. … I was tired. It is exhausting, but I love it. It's a really great experience every time that I go."
For the Irma assignment, team members met at Dulles International Airport in Washington, D.C., and were flown to Florida on a Department of Defense C-17 Galaxy jet cargo plane. Beach said, "After being staged in Orlando, we were bused down to the Lower Keys. That became somewhat difficult because they got hit pretty hard. Fuel became an issue for the buses. We had to work out strategy for getting down there."
Upon arrival in the Lower Keys, they relieved a team from Hawaii that had set up hospital tents across the street from the only hospital in the area. A small emergency room was the only part of the hospital still open after the hurricane.
"We saw 40 patients a day, mostly on daylight. I was the lead on night turn," he said. "We saw patients with lacerations, belly pain, some traumas, just like a hospital. We discovered all of the insulin had spoiled in the area because of lack of power and refrigeration. There was no insulin except what was in our cache. We saw a lot of diabetic patients. We stayed until the hospital was back up and running."
Patients presented a mixture of ordinary illnesses and storm-related injuries. Beach said, "I teach a disaster course at the school of nursing. One thing I tell students — and it's panned out at every disaster — there is always a mix of people who cut themselves trying to cut up trees, who have a twisted ankle because something fell on them, always a mix of that with regular patients that a normal ER sees...