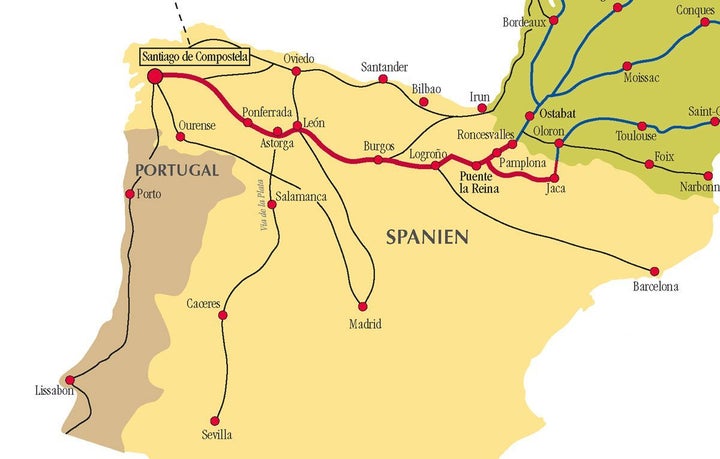 The Camino, Spanish Section, Northern Route
Buen Camino! – the universal salutation that wishes the pilgrim well.
While those familiar with the Santiago de Compostela pilgrimage may think of its Spanish section, 800 kilometers (500 miles) from the French crossing (now called the Napoleon Trail) over the Pyrenees, to the far northwest city of Santiago de Compostela, the most ancient trail begins in south central France. In the 10th C. the Bishop of Le Puy, in central France, began this now ancient tradition. The French section adds another 800 kilometers for a total of near to 1000 miles across two countries and delivering a grand physical, mental and spiritual adventure (Journey for Body and Soul: The St. Jacques de Compostelle Pilgrimage Trail)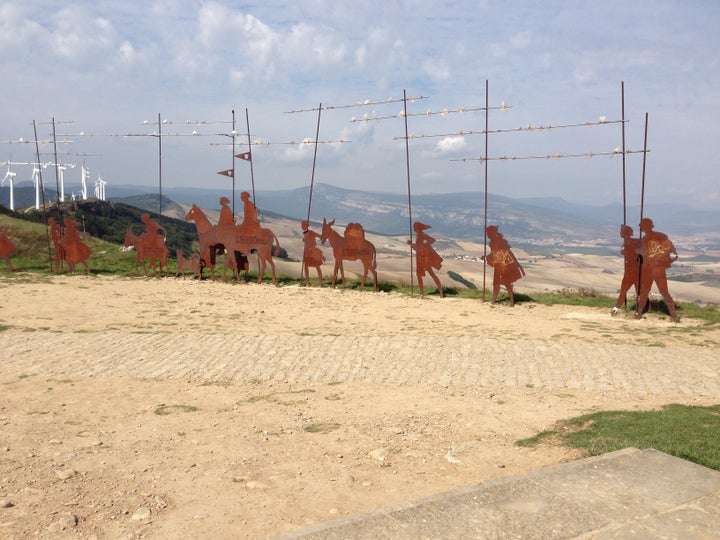 My wife and I began the pilgrimage in Le Puy, walking a week or so each year for nine years, always picking up where we last left off. We now have 300 kilometers to reach Santiago where pilgrims and tourists flock to honor the remains of Saint Santiago (St. Jacques, St. James) and to soak up Spanish hospitality, red wine (it is not far from the Rioja region), the remnants of a medieval past and a modern today, and the warmth of the locals and the southern sun.
This year we walked from Burgos to León, Spain, west of the gorgeous Rioja vineyards. This section of the Camino is about 150 kilometers (100 miles). Leaving Burgos, the walker soon encounters the meseta, with its 950-meter-high panoramic view, followed by mostly flat farmland. In October when we walked, the trail, always well marked with yellow arrows or stones, stretches past vast fields freshly harvested and plowed or planted with winter grass leaving the walker (and farmer) to imagine the year ahead. The sky blazes blue. It is all mesmerizingly monotonous, an elixir that creates the mental space to go who knows where.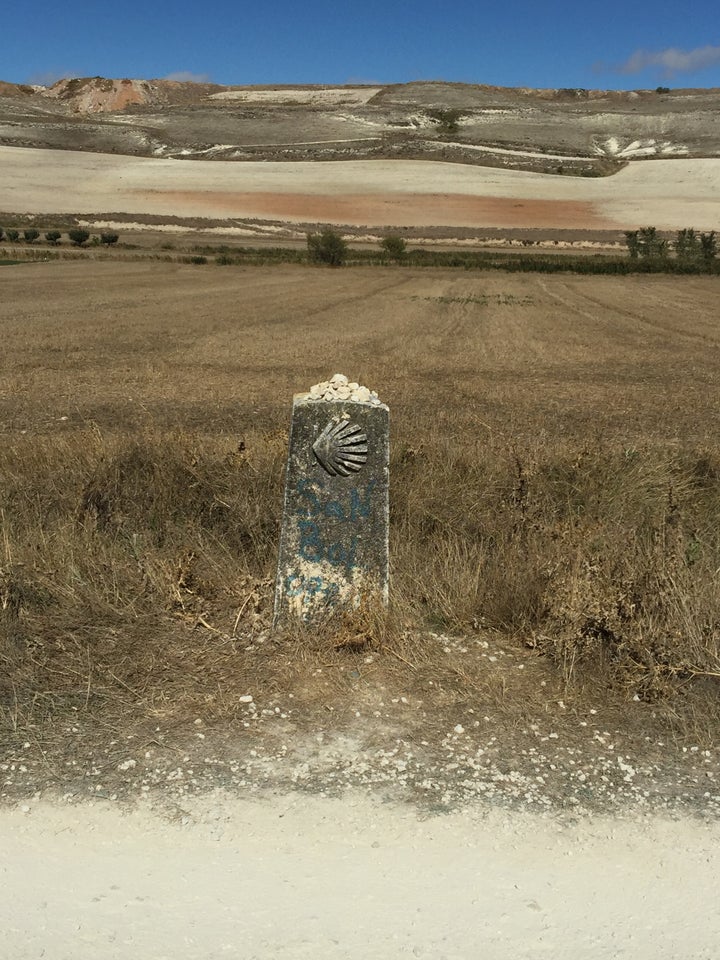 Camino Stone Marker, northcentral Spain
Walking 6-7 hours a day, even when mostly level, is not quite a stroll in the park. The pilgrim not only accepts but tries to welcome its demands – to recognize that hard work and reflection have their well won rewards. In Spain, we are perigrinos. In France, pelerins. Pilgrims everywhere, who walk the Camino for diverse reasons: for some it is religious, for others spiritual; for some it is to heal from a loss or illness, or misfortune; or a transition in their lives or work; families walk to bring them close; artists of all types walk to find a voice that eludes them, to seek their muse; some search for self-acceptance, an elusive yet essential state of mind; and for some, it is like the American Appalachian trail, a glorious adventure.
The last stretch of each day is always a stretch. But that's the point. The body resists and the mind ain't far behind. The back and knees feel it, and the straps of the rucksack are making a shallow trench in your shoulders. If you are unlucky, a toe or heel blister pings you with every other step or tendinitis burns your shin. And it's been a couple of hours since almuerzo (lunch – typically cheese, nuts, bread and fruit purchased early that morning at a tienda) and there are a couple hours, or more, until the day's destination.
Every day is unprecedented and uncertain,…