Fentanyl Linked to Over Half of Opioid Overdoses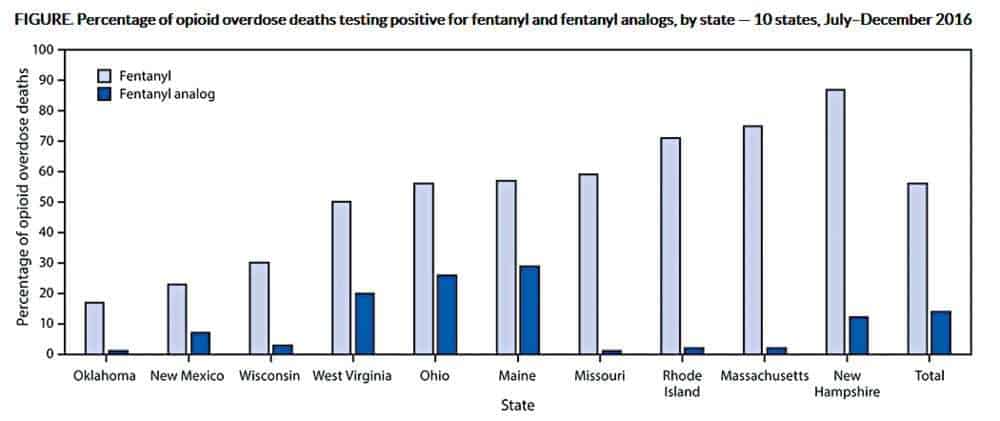 A new report from the Centers for Disease Control and Prevention shows that illicit fentanyl – not prescription pain medication -- was involved in over half of the recent opioid overdoses in ten states.
The report underscores the changing nature of the nation's overdose crisis and how public health officials have been slow to respond to the growing role of fentanyl and other illegal opioids – focusing instead on limiting access to opioid medication.
CDC researchers say fentanyl or its chemical cousins (known as fentanyl analogs) were detected in 2,903 of 5,152 opioid overdoses (56.3%) during the last six months of 2016.
Their report on overdoses in ten states (Oklahoma, New Mexico, Wisconsin, West Virginia, Ohio, Maine, Missouri, Rhode Island, Massachusetts and New Hampshire) is the first to use toxicological and death scene evidence to characterize opioid overdoses, a method that is far more accurate than other CDC reports that rely on death certificate codes.
Maine, Massachusetts, New Hampshire, Rhode Island and Missouri reported the highest percentages of deaths involving fentanyl (60-90%), while New Mexico and Oklahoma had the lowest (15-25%). Fentanyl is a potent synthetic opioid that is legally prescribed to treat severe pain. The vast majority of...