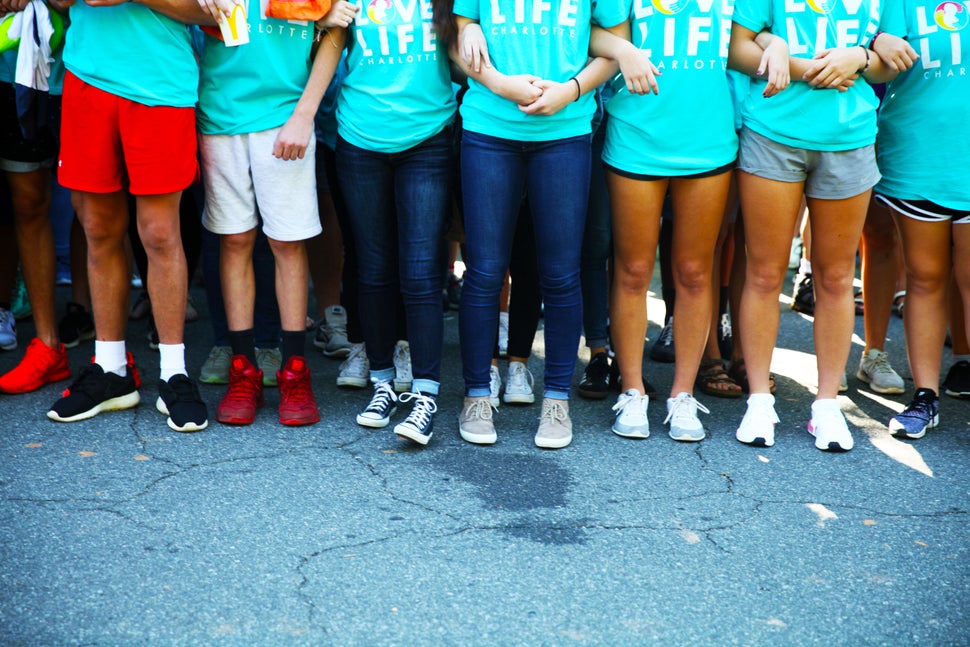 Annie* was just 8 years old when her Southern Baptist parents started taking her to protest outside abortion clinics in Southern California. She marched in anti-abortion rallies, stood outside clinics with signs, and volunteered at crisis pregnancy centers.
Now, looking back at age 29, Annie wishes her parents hadn't pushed her so hard to actively participate in a cause she didn't quite understand at the time.
"I know, somewhere," she told HuffPost, "there's a picture of me holding a sign as a kid that read, 'Would You Kill Me, Too?'"
"[Being forced to protest at such a young age] made me yell slogans for an issue I did not comprehend, and I deeply regret the hurt I probably caused as a child," said Annie. "I remember women walking past me into a clinic, crying when they saw me."
Annie's experiences as a young child in the anti-abortion movement (if not her feelings about those experiences) are far from unique. Across the U.S., kids of all ages are woken up early on Saturday mornings and brought to local abortion clinics to protest with their parents. They pray, sing, pass out fliers, decorate sidewalks with chalk, or hold signs and posters.
While passing down religious and political beliefs is a natural part of parenting, and certainly not a bad thing, many patients, companions, clinic escorts and abortion providers that HuffPost spoke to question the role children are pushed to play in the anti-abortion movement. While anti-abortion leaders see children as an integral part of their protesting strategies, abortion rights advocates see young people being used as pawns to harass women making private health care decisions.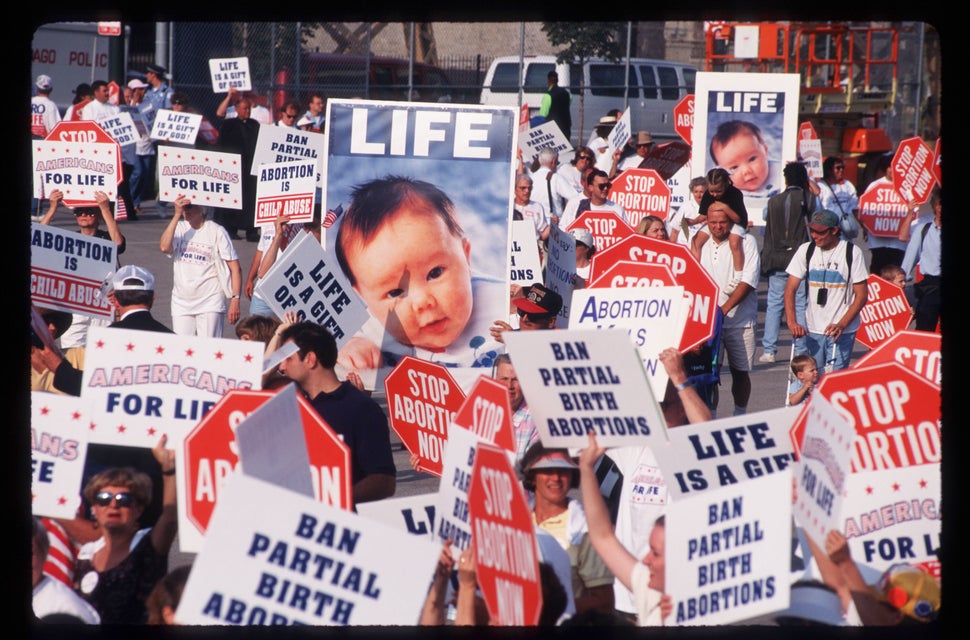 The anti-abortion movement has long used images of children in their marketing materials and posters. Protesters might carry posters featuring a baby or a young child's face, with words like, "Would you kill me, too?" overlaying the photo. Many volunteers at Crisis Pregnancy Centers pass out pamphlets and fliers outside abortion clinics that include photos of happy-looking families or smiling children.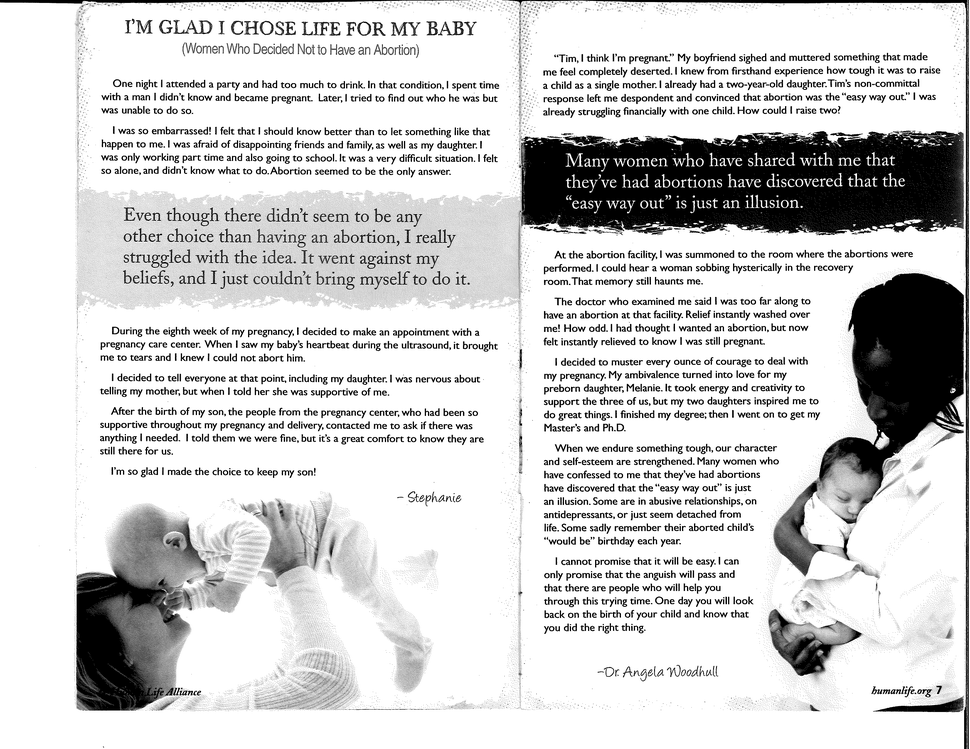 But the role children play extends outside of appearing on posters.
Kids are also leading prayers or engaging in group prayers led by religious leaders, speaking anti-abortion rhetoric into megaphones or microphones, and passing out literature from crisis pregnancy centers.
There is perhaps no better manifestation of the movement's use of children than last Saturday morning's Youth For Life march in Charlotte, North Carolina, outside of A Preferred Women's Health Center (APWHC), one of the biggest abortion providers in the south.
Love Life Charlotte, a conglomeration of churches in the Charlotte area who have come together to protest abortion access, was granted a parade permit by the city for Saturday morning for their Youth For Life march. According to Love Life Charlotte, about 40 churches bused in children of all ages to march outside the clinic.
Justin Reeder, the founder of Love Life Charlotte, told HuffPost that the event was an opportunity for youth members to "see how being pro-life is not just being against abortion but also offering love and life to those who feel abortion is their only option."
"As our nation continues to become more pro-life (Editor's note: a recent Gallup poll showed that 49 percent of Americans currently identify as "pro-choice" while 46 percent identify as "pro-life") it's important for young people to see how much love and life the Church can bring to those who feel abortion is their only option," Reeder said. "The youth are not engaging people, but rather praying that God ushers in a culture of love and life to a place where mothers feel so alone and afraid."
The youth march drew close to 1,000 participants on Saturday, according to Love Life Charlotte. The patients and patient companions that HuffPost heard from said that the sheer number of people marching outside the clinic coupled with the noise that they were making ensured an overwhelming and distressing experience for anyone moving in and out of APWHC. Two volunteer clinic escorts were so upset by the number of children participating in the demonstration that they left in tears.
Though Reeder said that the aim of the march was not to "engage" with the clinic's patients, the protest very much affected the appointments of APWHC'S patients. Although the participants never touched any of the patients, they did address them, often directly.
At one point, a 17-year-old member of Love Life Charlotte wept into a microphone, begging women who she called "Mom," not to murder their babies. A small group of kids performed live music into microphones so that their songs could be heard from inside the clinic.
A Preferred Women's Health Center is located at the bottom of Latrobe Drive, home to various local businesses on a wide two-lane road. Because Love Life Charlotte had been granted a parade permit, they were able to block off one of those lanes, thus disrupting the usual flow of traffic.
Members of the Charlotte-Mecklenburg Police Department…