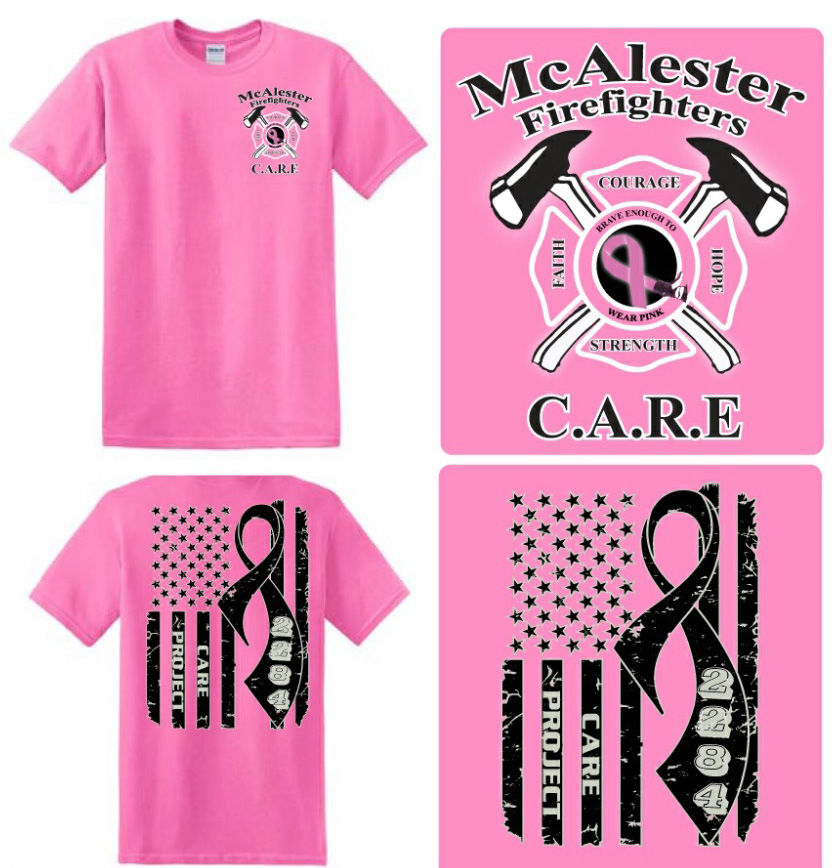 Local emergency responders and law enforcement are trying to raise breast cancer awareness.
The Pittsburg County Sheriff's Office and the McAlester Fire Department are selling T-shirts starting in October in an effort to raise money to support breast cancer awareness.
MCALESTER FD
The McAlester Fire Department is entering its eighth year of selling T-shirts to raise money for breast cancer awareness.
Shirts cost $15 and can be purchased either until the shirts are sold out or the end of October.
Starting in October, shirts will be available at The Treasure Trunk in McAlester and other locations.
These shirts are a part of McAlester Fire Fighters C.A.R.E., which stands for Cancer Awareness Reduces the Effects.
All proceeds will be donated to Oklahoma Project Woman (OPW), of Tulsa. This organization allows women without insurance to receive free mammograms, diagnostic procedures and surgical services.
Lt. Mike Caniglia, of the McAlester Fire Dept., is also the local president of union chapter 2284. He said that in 2005 the firemen traveled to Corpus Christi and learned about their local firefighters' efforts to raise awareness for breast cancer.
"They got us started on it and now it's on the national level," Caniglia said. "This is a way for…