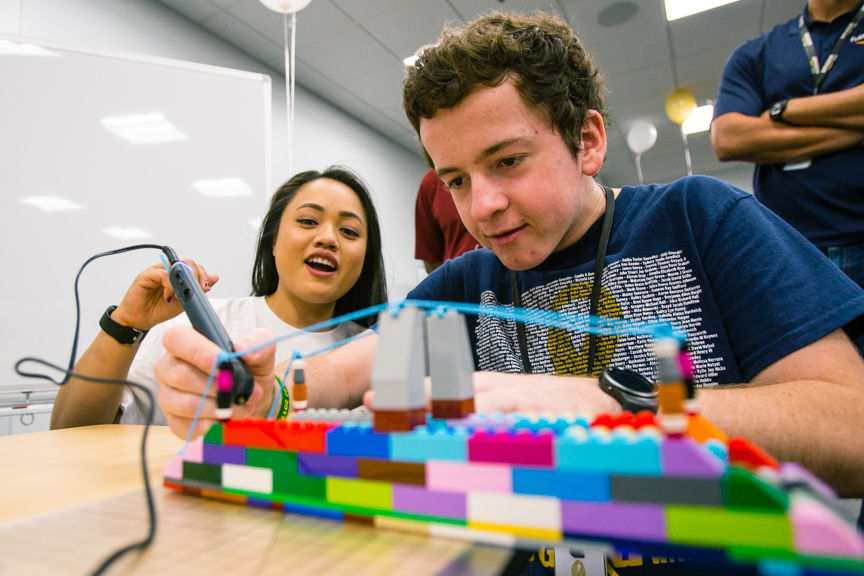 CLARK COUNTY — Patrick McSweeney, an 18-year-old freshman at University of Louisville, looks up to his dad, Mike.
Mike is an automotive engineer who works at the Ford motor plant in Louisville, and Patrick has always been intrigued by what his dad does for a living.
"I've always also had an interest in just knowing how different components can come together to work as one," Patrick said Saturday.
Once you know his story, his interest is no surprise. Patrick has witnessed "components" coming together "to work as one" since he was 5 years old.
On July 21, 2004, Patrick was diagnosed with acute lymphoblastic leukemia. He has battled childhood cancer six times over the past 13 years.
But like most 18 year olds, he's focused on college, where he's studying engineering. It is no exaggeration to say his face lights up the second you ask him about his love of engineering.
On Saturday, that passion was met with compassion at the Amazon Fulfillment Center in Jeffersonville.
Throughout the month of September, Amazon centers across the country welcomed 30 families fighting childhood cancer to their facilities for VIP tours and a day of fun. All of the children and teenagers selected had interests in the STEM field — short for science, technology, engineering and math.
Dubbed the "GO GOLD" campaign, the 30-day initiative was the result of a partnership with the American Childhood Cancer Organization, or ACCO. Jamie Bloyd, ACCO director of government affairs and external relations, said it is "the oldest and largest grassroots organization dedicated to making childhood cancer a national health priority. "
"Although childhood cancer is the number one cause of death by disease for children in the United States, less than 4 percent of all research goes to kids," she said.
Bloyd became involved with ACCO not long after her own child was diagnosed with cancer. Before Amazon's…