For many in our chronic illness community, a warm bath is not just a great way to relax and unwind at the end of the day. While baths can certainly be luxurious, this common form of self-care isn't always about indulgence.
Taking a warm bath can have a number of physical and mental health benefits – especially when you incorporate certain products. Whether you're dissolving something in the water or using a device to make your bath easier or more comfortable, stepping up your bath game may actually make a difference in your health and well-being.
We wanted to know what products those with chronic illness use in their baths to relieve symptoms and make the experience more enjoyable, so asked our Mighty community to share their favorite bathing products. Here are their recommendations.
Just so you know, we've selected these links to make shopping easier for you. We do not receive any funds from purchases you make.
1. Dr Teal's Epsom Salt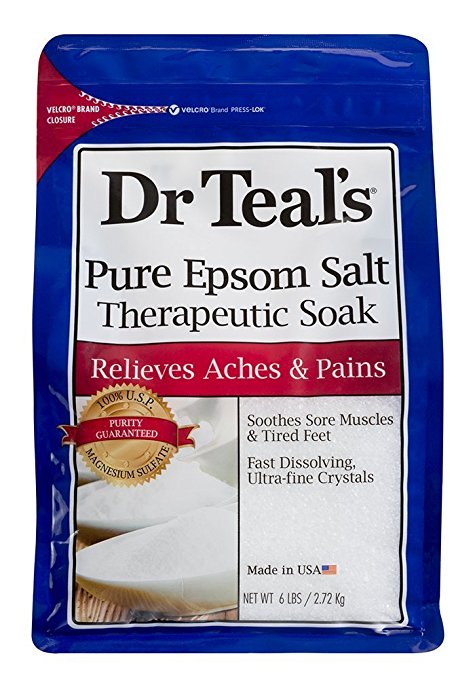 Epsom salt has a number of health benefits when dissolved in a warm bath, including soothing muscle pain and reducing swelling.
Sarah Nicole Marshall wrote, "Dr. Teal's Epsom salt. I love using the different kinds depending on my symptoms. Like if I'm having a flare-up and getting sick, I use the relax and relief that has eucalyptus and spearmint that helps with my sinuses. I use Soothe & Sleep when I'm having extra anxiety because it has lavender. They also have bubble bath."
Bella-Boo Berke said, "Dr. Teals pure Epsom salts foam bath is the best! I get the Soothe & Sleep type with lavender essential oils. Oh and it does wonders for my skin!"
Buy the Epsom salt above for $16.98 from Amazon.
2. Bath Pillow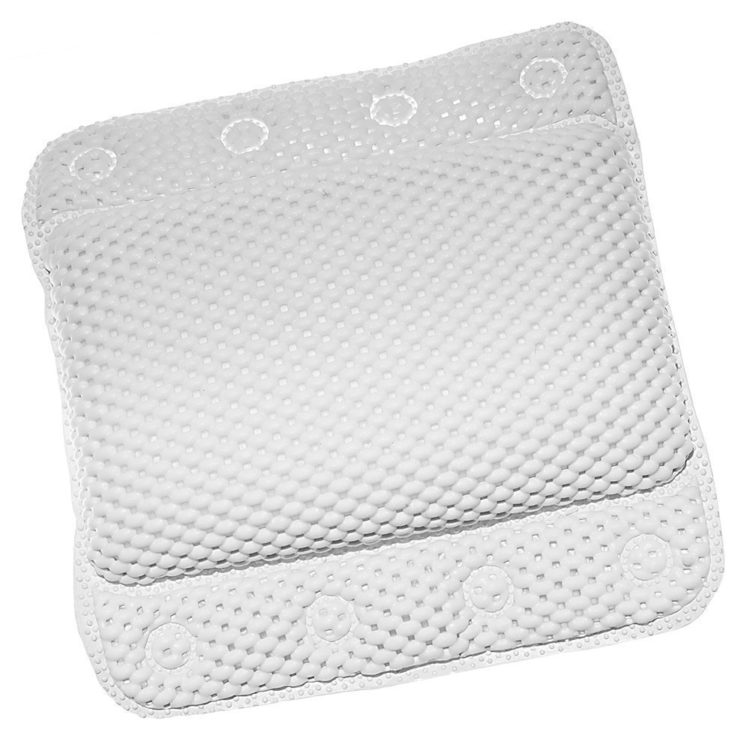 Relaxing in a bath is great… until your neck starts to hurt from resting at an odd angle on hard porcelain. A bath pillow gives you a much more comfortable surface to lay your head on so you can stay in the bath longer for maximum soakage.
Sarah Hulke Zaidi told us, "I really enjoy my foam bath pillow. We have a small tub, and a pillow really helps me relax by cushioning my back and neck. I have one from Amazon with suction cups, and so it stays exactly where I need it without fuss."
Buy the bath pillow above for $10.97 from Amazon.
3. Village Naturals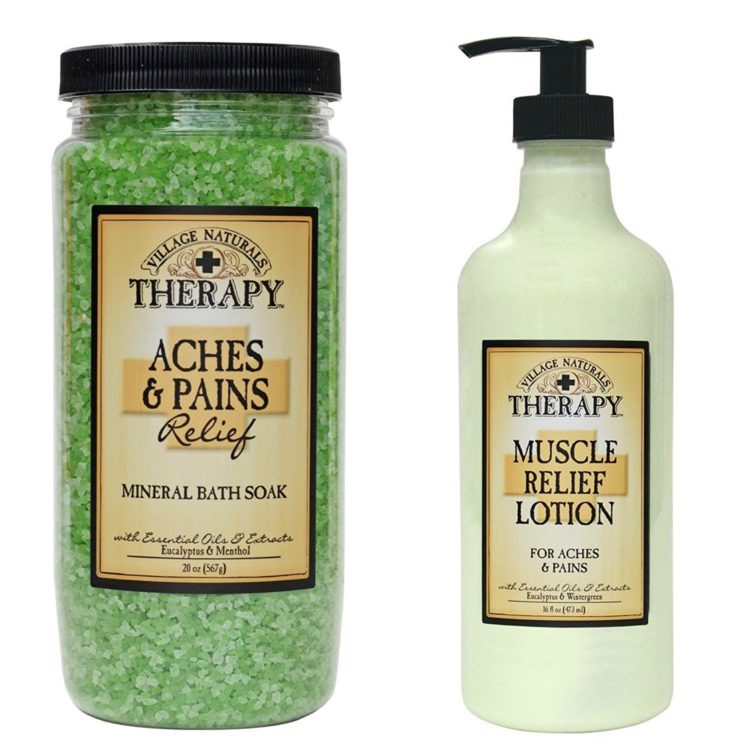 The Village Naturals mineral bath soak contains eucalyptus and menthol and combines sea salt and magnesium sulfate to draw out impurities and relieve tired and sore muscles. After your bath, you can massage the lotion (which also contains eucalyptus and menthol) into your muscles for deep penetrating pain relief.
Akusua Akoto recommended, "Village Naturals eucalyptus/menthol bath. Also comes in bath salts. Absolutely amazing. Haven't found a worthy substitute. Walmart and Amazon has it."
Buy the bath soak and lotion above for $27.99 from Amazon.
4. Overflow Drain Cover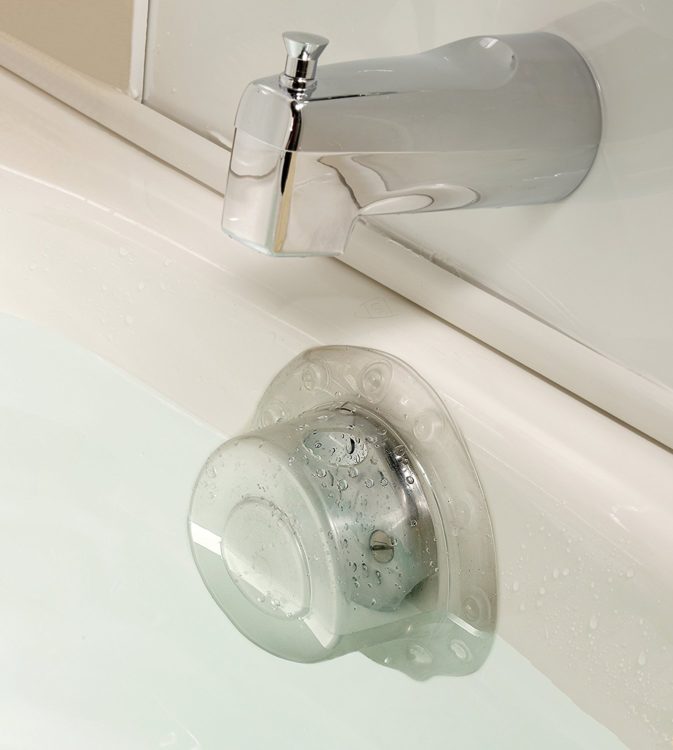 Although it's there for good reason, the overflow drain can be annoying when you're trying to fill your tub up enough to allow your entire body to soak. This cover can lets your fill your tub to the brim – just be careful not to actually let your bath overflow!
Ashley Laughlin said she uses an overflow drain cover. "The overflow drain cover allows my whole body to soak."
Buy the drain cover above for $8.59 from Amazon.
5. Fragrant Jewels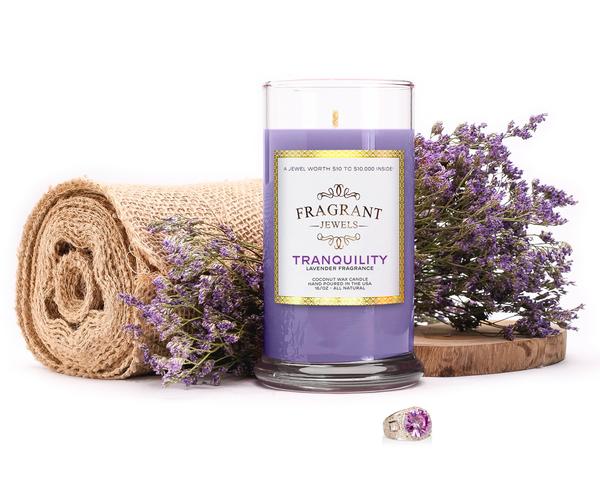 Fragrant Jewels sells candles and bath bombs with a variety of scents, and each product comes with a ring hidden inside. Whether you want to dissolve a bath bomb or light a candle (or both!), these products can help you relax while you soak.
"I indulge in Fragrant Jewels," wrote Mena Focken. "It's a candle and bath bomb company with rings inside the products. The scents are wonderful and relaxing, and knowing I get a 'prize' is just icing on the cake. It's a way to ease my anxiety, which decreases some of my pain."
Buy the candle above for $24.95 from Fragrant Jewels.
6. Norwex Body Cloths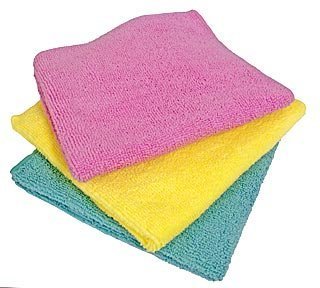 These microfiber body cloths are gentle on your skin and can help remove dirt, oil, makeup or dead skin with just water – no soap needed.
"I use body cloths from Norwex, they clean great and don't have to add soap. It's been really nice on my skin, and no worries about chemicals. Sounds weird, but they actually work super well, plus save money since I'm not constantly having to buy more body wash," said Alicia Thompson.
Buy the body cloths above (set of three) for $36.50 from Amazon.
7. LUSH Shower Jelly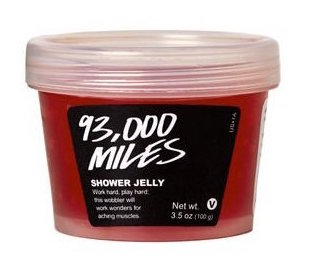 Made with eucalyptus and mint, the 93,000 Miles Shower Jelly promises to cool and soothe cramping muscles and ease aches and pains.
Suzi Turner recommended, "93,000 Miles Shower Jelly by LUSH UK – lasts ages and is warming with its clove and cinnamon scent. It's also very soft and squidgy so a major plus as I find normal bars of soap with 'edges' are enough to cause me pain with fibromyalgia. I also love LUSH's 'dirty' shower gel for its refreshing spearmint lift – again, I never feel awake with fibro but this helps me feel a little less foggy."
Buy the shower jelly above for $22.95 from Amazon.
8. Olay Dual-Sided Body Cleanser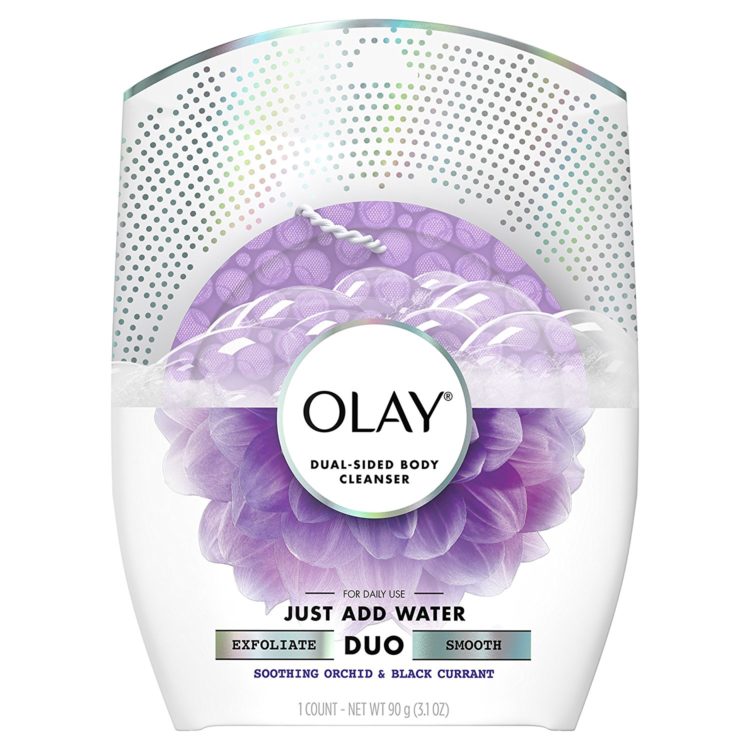 This cleanser has one smooth side and one exfoliating side. Just add water to create a cleansing lather, then hang it up to dry until its next use.
Tia Walters told us, "I have the ivory one in my shower and I love it! You just add water, no squirting body wash on it or having to switch between a separate loofah to areas you want to exfoliate. You just flip it over. And when you're done, you rinse it off and hang dry!"
Buy the body cleanser above for $6.97 from Amazon.
9. Himalayan Salt Lamp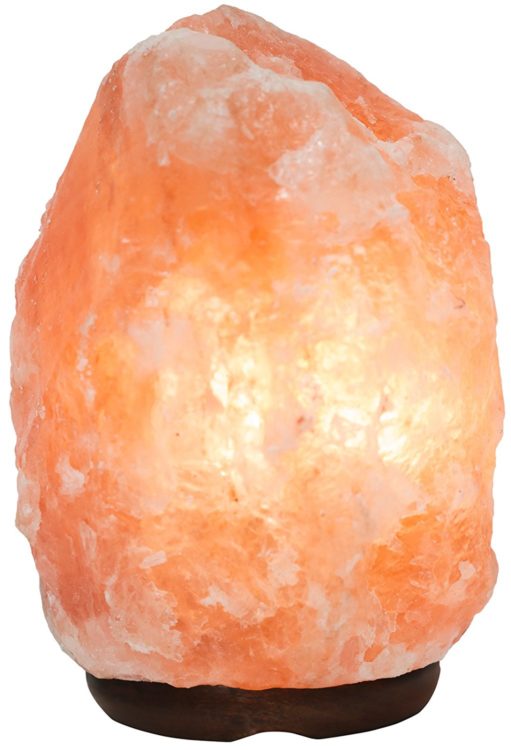 Not only do Himalayan salt lamps look cool and give off a warm glow to set the perfect ambiance for your bath, but they also cleanse and deodorize the air to boost your health and make it easier to breathe.
Trena Renee Seymour said, "[I use] a Himalayan salt lamp in the bathroom. The soft glow is amazing when I'm debilitated by headaches."
Buy the Himalayan salt lamp above for $21.95 from Amazon.
10. Magnesium Bath Flakes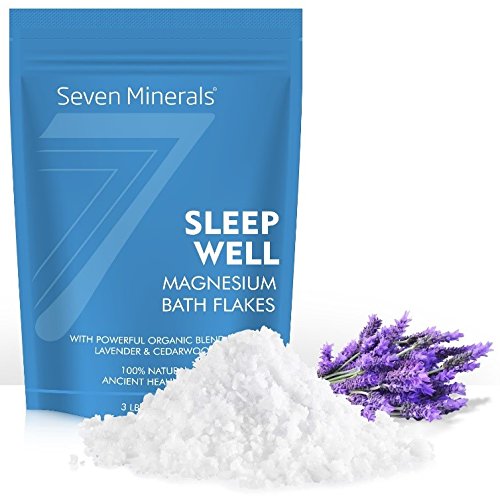 Magnesium flakes have been shown to heal and hydrate skin, decrease inflammation and help with stress relief and relaxation.
Red Claire Redde said, "Magnesium salts. Helps with the spasms (I've got hEDS) and aids the heat in doing its magic. I usually add a few drops of lemongrass or lavender essential oil."
"Magnesium chloride flakes," added Patricia Hamel. "They contain more magnesium than Epsom salts and it absorbs into the skin and muscles while you bathe."
Buy the bath flakes above for $14.95 from Amazon.
11. Arbonne Rescue & Renew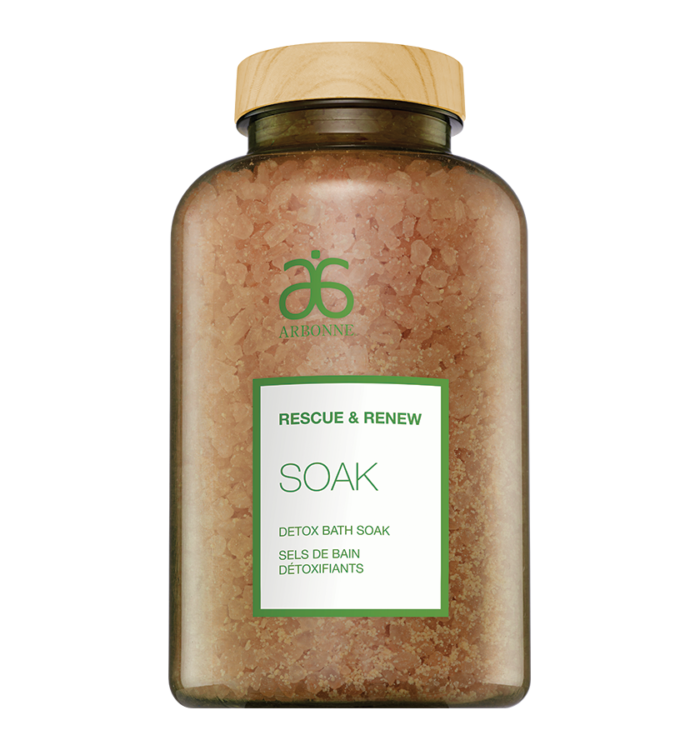 Brandi Stewart wrote, "Arbonne Rescue & Renew body wash. It's gluten-free and hypoallergenic plant-based, since many of us have sensitivities, a relaxing all-natural scent that isn't overpowering, and moisturizes enough that if you are too fatigued to use body lotion after your shower, you don't have to."
Buy the detox soak above for $38 from Arbonne.
12. Essential Oils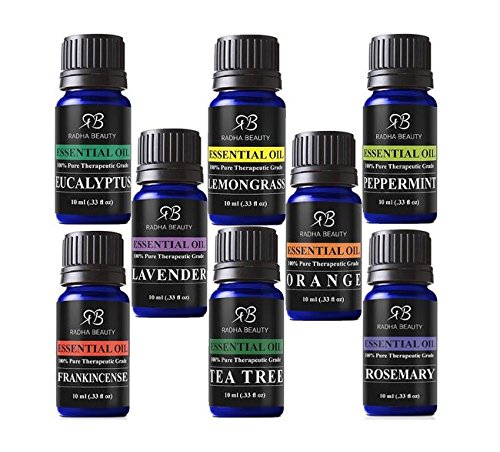 Essential oils can not only make your bath smell heavenly, but different types are believed to have different healing properties, both physical and emotional.
Sarah Hulke Zaidi wrote, "Essential oils really help me relax. Lavender is the go-to, but I also like orange, cypress and sage depending…