At any one time, a sixth of the population in England aged 16 to 64 have a mental health problem, according to statistics body NHS Digital.
Whether it is family or friends, neighbours or work colleagues, the chances are we all know someone who is affected.
And bearing in mind the figure leaves out less common conditions and is a snapshot in time, you could easily argue it is even more prevalent than that. Indeed many do.
With Prime Minister Theresa May expected to announce plans to improve care next week, these 10 charts show the extent of the challenge.
1. Problems are on the increase
It seems to be getting more common – or at least among those with severe symptoms. While the proportion of people affected does not appear to have risen in the past few years, if you go back a little further there has certainly been a steady increase.
Evidence from the NHS Digital study in England shows the rise has been driven by an increase in women with illness.
Why is this? Undoubtedly some of it is down to people being more willing to report and admit mental health problems.
Experts point to the way self-harm in particular is recognised in a way it was not 20 or 30 years ago.
But it is also clear 21st Century life is taking its toll on some people. Economic uncertainty, social media, the influence of the media and rising expectations of what life should be like have all been suggested as possible causes.
2. Women are now more likely to be affected
Women are now much more likely to have a common mental illness.
One in five report they have, compared with one in eight men in England. If you include only those with severe symptoms, the difference is less acute, but still apparent.
Young people are particularly susceptible.
A number of theories have been put forward for this. The economic uncertainty of the past decade has particularly affected the young, making it harder to get on the career ladder.
And psychiatrists and mental health campaigners are increasingly raising questions about whether social media increases peer-group pressure and online bullying.
Whatever the reason, the one thing experts are agreed on is that the figures are shocking.
3. But men are more likely to take their own lives
Mental health problems prompt thousands of people to take their own lives.
In fact there are about 6,000 suicides in the UK each year and it's the biggest killer of men up to the age of 49. Men account for three-quarters of the total figure.
The best overall measure is the number of suicides per 100,000 people. That's because, with a rising population, the absolute figure is almost bound to go up. Since the 1980s, the trend is down.
There's quite a big national variation, with England having the lowest suicide rate and Northern Ireland the highest. Scotland and Wales have similar rates and are in the middle.
4. Mental health problems tend to start early
As already mentioned, mental health problems are particularly common in the young in the UK.
In fact, most mental health problems develop in childhood or when a person is a young adult. Three-quarters of problems are established by the age of 24.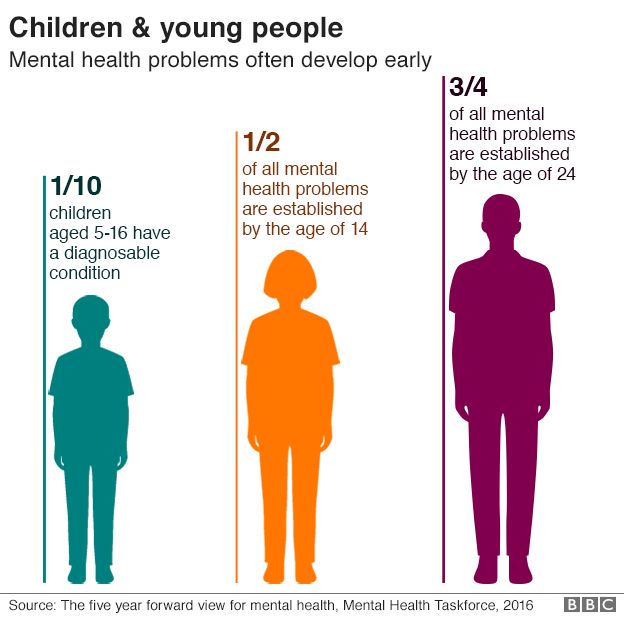 5. Mental health services are the poor relation when it comes to funding
Extra money has also been earmarked for adult services in England. Together with the investment in children's services it means by 2020-21 £1.28bn more should be spent in real terms than was in 2015-16.
Ministers say the money will…