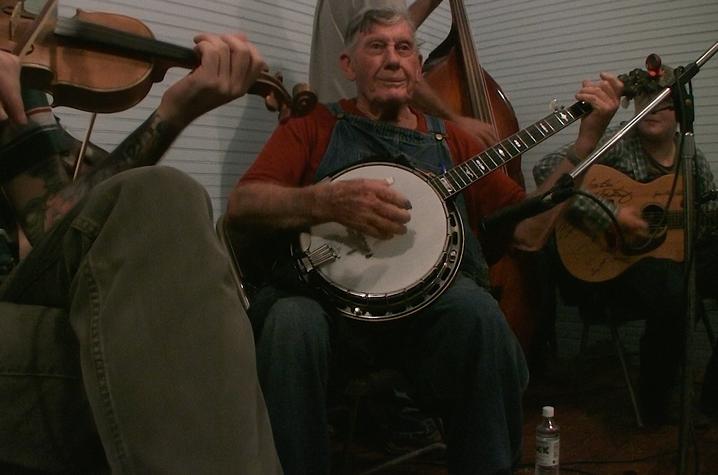 Watch "Linefork" trailer above.
LEXINGTON, Ky. (Oct. 23, 2017) — The University of Kentucky John Jacob Niles Center for American Music will give local audiences the opportunity to learn more about the day-to-day life of banjo master Lee Sexton with the screening of a film on the old-time musician. The "Linefork" screening, which is free and open to the public, will begin 7:30 p.m. Tuesday, Oct. 24, in the Niles Gallery, located in the Lucille Little Fine Arts Library and Learning Center.
An immersive meditation on the passage of time and the persistent resonance of place, "Linefork" follows the daily rituals of an elderly couple living in Kentucky's Appalachian Mountains. Now well into his 80s, Lee Sexton is the last living link to the distant past of a regional American music.
A retired coal miner with black lung, Lee and his wife, Opal, continue to farm the land where he was born. Together they face encroaching health concerns and stark economic realities. Recorded over three years, "Linefork" is an observational film documenting their marriage, their community, their resilience and the raw yet delicate music of an unheralded banjo legend, linked to the past yet immediately present.
Filmmaker, artist and teacher Jeff Silva and musician, instrument builder, sound installation artist, filmmaker and freelance teacher Vic Rawlings served as co-directors, cinematographers and editors of "Linefork." Ernst Karel did sound design for the film.
An active performer and teacher, Lee's musical sensibility and technique span several centuries and can be heard on multiple releases on Smithsonian/Folkways recordings. He learned to play banjo directly from family members Morgan Sexton and Roscoe Holcomb, themselves legends of old-time, pre-bluegrass music. His repertoire is eclectic…