This study was designed to investigate the associations between TERT overexpression and the clinicopathologic factors of hepatocellular carcinoma (HCC). A total of 291 patients with HCC were enrolled. The site of first recurrence (anywhere in the liver) was classified as intrahepatic recurrence (IHR). Recurrence was then sub classified as either early or late IHR according to whether it was discovered within 2 years of resection, or after, respectively. TERT overexpression was not significantly correlated with previously recognized prognostic factors. During follow-up, early IHR occurred in 126 (63.6%) patients, while late IHR was detected in 59 patients among 145 patients who remained free of HCC recurrence for ≥ 2 years after surgery. Multivariate analysis showed late IHR was significantly correlated with TERT overexpression (P < 0.001, hazard ratio [HR] 2.67, 95% confidence interval [CI] 1.51–4.72). Intrahepatic metastasis (P < 0.001, HR 4.48, 95% CI 2.62–7.65) and TERT overexpression (P < 0.001, HR 1.77, 95% CI 1.28–2.45) were significant prognostic factors for IHR-free survival in both univariate and multivariate analyses. TERT overexpression was the only significant prognostic factor for late IHR in HCC treated with curative resection. And, the statistical significance of TERT overexpression on late IHR was limited to HBsAg-positive patients.
Hepatocellular carcinoma (HCC) remains one of the most challenging health problems worldwide despite the hepatitis B virus (HBV) vaccine, surveillance in high-risk patients, potent antiviral agents, and imaging and treatment modalities. Currently, HCC is the fifth most common cancer, and the second leading cause of cancer-related death worldwide1.
The Barcelona Clinic Liver Cancer (BCLC) system is the most widely used HCC staging and treatment guideline. According to BCLC, the curative treatments for HCC include liver transplantation (LT), surgical resection, and local ablative therapy, including radiofrequency ablation (RFA)2. One study found that the local control rate of HCC was comparable between surgical resection and RFA3. Surgical resection is generally preferred, if possible, however, because of the difference in overall recurrence after surgery compared to that after other treatment modalities4,5,6. Unfortunately, recurrence is still detected in approximately 50% of patients after surgical resection7. There is no standardized adjuvant treatment modality after HCC surgical resection. Therefore, it is very important to identify reliable biomarkers of recurrence, as well as the most probable sites of recurrence, in order to develop customized management plans.
Telomerase reverse transcriptase (TERT) is a core catalytic component of telomerase that plays a crucial role in maintaining telomere length8. In most somatic cells, TERT expression is suppressed. In contrast, TERT is actively expressed in self-renewing cells, such as stem cells9. Overexpression of TERT and telomere dysfunction is frequently detected in a variety of human cancer specimens, including thyroid cancer10, bladder cancer11, melanoma12, and brain tumors13. This TERT overexpression is detected in up to 90% of cancer cells, compared to in <20% of normal cells14. Evidence has suggested that TERT overexpression in HCC is associated with poor clinical outcomes; however, this hypothesis was based on a small patient population, without consideration of other clinicopathologic factors that might affect clinical outcomes15. Therefore, it is essential to more precisely evaluate the role of TERT overexpression in HCC, as well as that of other clinicopathologic factors in homogenously-treated patients.
We investigated the associations between TERT overexpression and the clinicopathologic factors of HCC in Korean patients mainly caused by HBV infection. We also studied the clinical significance of TERT overexpression with regard to HCC recurrence and survival duration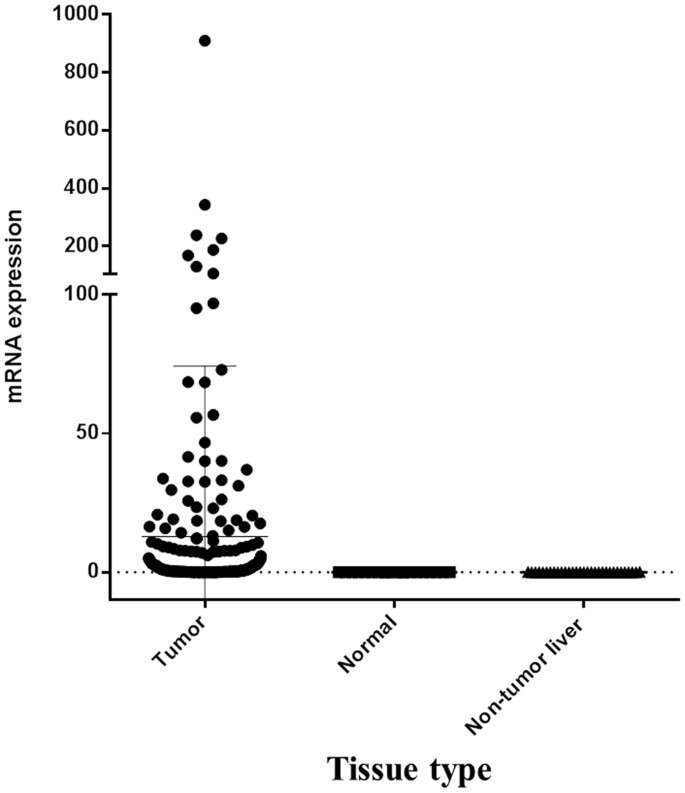 …