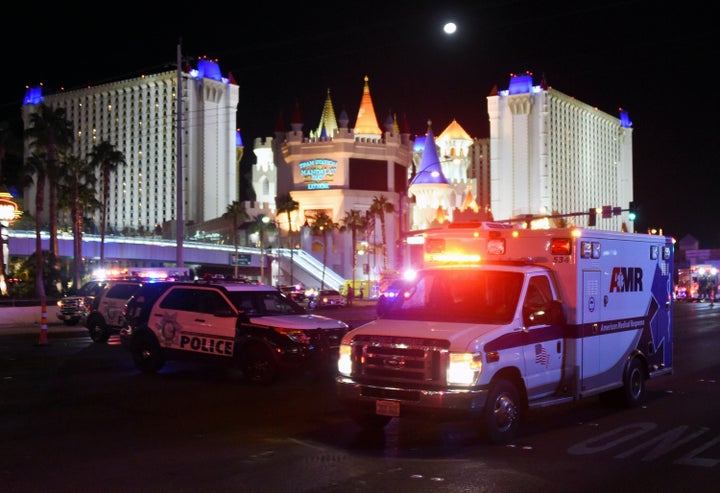 In a nation politically incapable of preventing mass shootings, and where the right to quality affordable health care is not guaranteed, online fundraising sites are filling the gap to help pay for very expensive U.S. medical bills, like in the case of many survivors of the Las Vegas massacre.
About one month after the shootings, in which 59 people died and more than 500 people were injured, dozens have turned to the popular fundraising site GoFundMe to help them pay for things like surgery and rehabilitation.
There are at least 29 fundraising profiles on the site that specifically reference the Oct. 1 shooting at the Route 91 Harvest Festival, and they follow in the footsteps of other Americans (and even one hospital) who have turned to crowdfunding in order to avoid a medical bankruptcy. Most profiles are asking for money to pay for surgery and rehabilitation costs, and explain that these victims sustained gunshot and shrapnel wounds. One was trampled and another impaled with a tree branch.
"Because of her injuries physically and mentally, Gabby will be out of work for atleast [sic] a few weeks needing time time heal from the tragic event on Sunday night," one profile reads. "Because of that, and the extensive expected medical bills from surgery and the ER, we have created this page to help alleviate some of the financial stress and burdens to be able to take some of the load off her plate to be able to recover without stress."
″Doctors said he might never walk again, but Mike is strong and is determined to walk again," says another profile. "We are trying to raise money for his rehabilitation and get him well. He has a long road ahead of him, and lots of expenses. We want to get him the best help ever."
Before the Affordable Care Act became law in 2010, 62 percent of all bankruptcies in the U.S. had medical causes. While there is some evidence to suggest that the ACA is linked to a steady decrease in personal bankruptcy filings, Americans today are still struggling to afford to pay their bills — especially those in states that chose not to expand Medicaid eligibility after the ACA took effect.
Enter online crowdfunding, which puts the tradition of passing a hat around at church or the workplace for donations on a global platform. Now everyone a patient has ever met, as well as internet strangers, can rally around the need to raise funds to pay medical bills or for future medical procedures.
There are few reliable estimates for how common is the practice of crowdfunding for medical bills, but an April 2016 analysis of such sites found that YouCaring.com had 15,880 active medical campaigns, while FundRazr…