4Medica Inc. is a cloud-based medical solution that is designed for physician groups, laboratories and care delivery organizations. The electronic health recording (EHR) solution helps the physicians to access patient records, test results and medication information. It also helps in maintaining an audit trail, which is updated regularly.
The clinical data exchange solution assists physicians in providing inpatient and outpatient information from labs, pathology and imaging data from different locations. The ambulatory solutions help in providing information regarding clinical workflow to patients. The organizations can utilize the solution to select individual applications for electronic health record connectivity, lab and radiology integration.
The solution assists the pathology clinicians to identify biopsy location on organ images by using drag-and-drop functionality and then transfer the images along with the location to the pathology lab so that it is accessible by the physician of that particular location. Support is available via phone.
Specialities
Pathology (Anatomic/Clinical)
Tech Support Availability Yes
Training Costs We would be happy to introduce you to the most comprehensive cloud-based health information exchange and electronic health record solutions in the industry.Please contact us: Phone: 310-695-3300 Option 1Email: marketing@4medica.com
4medica iEHR User Reviews

Read All Read All Reviews Reviews
Free Resource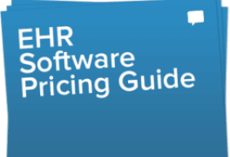 Medical, EMR & EHR software Pricing Guide
Don't let price confusion keep you from selecting the best software!