Certifications:
CCHIT
,
ISO 13485:2003 Certification
Specialities:
General Practice
,
General Practices
Training Costs:
Sales Assistance Phone: Toll Free: 800-267-ABEL (2235) Dial extension 1 Email: You can email your questions directly to our Sales department. Email Sales Emails are usually replied to the same business day. Thinking of buying, renting, leasing, or taking a product for a test drive? We would be happy to answer any questions you have. Let us know how we may help you.
Recommended Internet Connection Speed:
https://www.abelmed.com/Home/SystemRequirements
Full-fledged electronic medical records (EMR) capabilities – continually incorporates new technology to provide ever-greater benefits to physicians.
Tech Support Availability:
Free Resource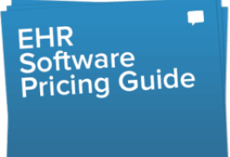 Medical, EMR & EHR software Pricing Guide
Don't let price confusion keep you from selecting the best software!