Absolute EMR is a cloud-based medical practice management solution that gives doctors digital access to medical charts, appointments and confirmations, test results, prescriptions, consultation notes and patient treatment plans.
Absolute EMR can be accessed through various browsers, including those browsers on mobile devices. It also features a patient portal within which patients can view test results and medications, book appointments, message their doctor and access additional clinic information.
In addition to serving the functions of a clinic, Absolute EMR offers a series of modules that support speech recognition, clinical decision support, time tracking, inventory management, wearable device tracking and more.
Absolute EMR's platform can be fully customized to the needs of particular businesses. Data entry services are offered and customer support is available via Absolute EMR's call center.
Specialities
General Practice
General Practices
About Absolute EMR
We provide the latest innovative software technologies for the healthcare industry, our solutions and platforms are unified and comprehensive and always improving
Tech Support Availability Yes
Training Costs sales@csphealthcare.com
Absolute EMR User Reviews

Read All Read All Reviews Reviews
Free Resource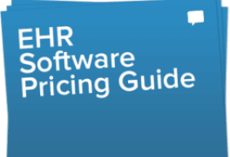 Medical, EMR & EHR software Pricing Guide
Don't let price confusion keep you from selecting the best software!