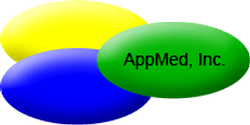 What is AppMed EMR Software?
About AppMed EMR Software
AppMed EMR software is an integrated Electronic Medical Records (EMR) software. More than just a patient notes program, AppMed EMR is designed to be the focal point for all patient history, orders, prescriptions, progress notes, clinical imaging and more. AppMed EMR is completely integrated with the billing and patient appointment scheduling applications, no re-entry of patient information is needed.
AppMed EMR software offers:
Easy implementation that will minimize the impact on patient care, staff tolerances and financial considerations.
Seamless inegration with other information systems (billing, scheduling, etc) they are currently using.
ONC-ATCB certification to ensure compliance with requirements established under the HITECH
act and possible qualification for stimulus money made available through Medicare or Medicaid programs.
AppMed EMR software starts with a solid and well established workflow concept and is technology friendly. It includes speech recognition, handwriting recognition, portable laptop computers, user customizable templates, on-line drug interaction checking, "cloud computing", Wi-Fi networking and just about anything else.
AppMed EMR software embeds directly into the AppMed billing and scheduling programs. All three applications work as a cohesive unit and information entered in any one is immediately available in the others. Multiple users with different responsibilities can work simultaneously in AppMed EMR. A medical assistant can be entering patient allergies, meds, history and vitals, while the doctor can be updating the progress note and writing an e-prescription at the same time.
AppMed EMR Software User Reviews