What is AVENUES EMR Software?
About AVENUES EMR Software
AVENUES is an electronic medical record (EMR) software designed by Angel Systems, Inc. It is a comprehensive, dynamic EMR software for the Behavioral Health Care Industry, accommodating inpatient, residential, partial and outpatient facility needs.
AVENUES EMR software's fully integrated modules include Referral & Marketing, Electronic Client Chart, Treatment Planning, Resource Management, Scheduling, Billing and Accounts Receivable.
Angel System's Integrated Clinical Solutions enable you to review all clinical findings within your facility. The system provides access to the entire clinical history of any patient who has ever been served at your facility, and immediate access to critical data throughout the entire continuum of care.
AVENUES EMR Software User Reviews
Free Resource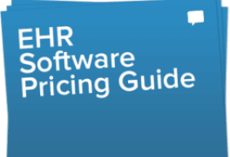 Medical, EMR & EHR software Pricing Guide
Don't let price confusion keep you from selecting the best software!