BestoSys is a cloud-based electronic records and practice management solution solution for doctors and dentists. It also offers an orthodontics module. The solution enables users to track their private practice patients along with patients in multiple hospitals or a large corporate client.
The solution allows users to upload documents such as images and x-rays that are related to a treatment or clinical note and store them in custom folders. Its restorative and Perio charting feature for dentists enables them to record their patients' treatment plans and existing conditions without the need to manually type. In addition, users can record, store and view the Perio health chart for all patients.
The solution offers various key features such as e-prescribing, patient billing, a patient portal, patient records, patient registration, patient scheduling, lab-work tracking, physician scheduling, clinical notes, patient medical histories and multi-clinic management. Its mobile app offers a pay per use plan where users can recharge their accounts as required.
Tech Support Availability N/A



I am extremely pleased with this dental practice management software. Very easy to use but loaded with lot of features. Most importantly the service is very prompt. Any problem it is solved immediately. It can also be integrated with social media sites and patients and leave reviews very easily without having to search. The whole clinic can be managed including the lab work, purchases, expenses, inventory status, and the accounting. At last the interface is nice and beautiful and very user friendly...


its really great software. and we'll get very quick response from the supporting team. I can say this is finest software for Patient management.


This is the best software we have ever come acorss. Its straight forward and takes into account all the idiosyncracies of a large dental practice. It is modern and well thought out. The client support is five star.


Great Product , Excellent Customer support , Had A very Extensive Demo Session With Mr Vaibhav. Defiantly Would Recommend To others.


Have been using Bestosys since last 4 yrs. Prior to that i had used 3 different softwares fro 7 yrs but none of them match the simplicity,usefulness and effectiveness of Bestosys. I am extremely happy with the software. Not only the patient data management is good but it also allows us to use this data for the growth of our practice. In all a complete package for practice enhancement.
Read All Read All 260 Reviews Reviews
Free Resource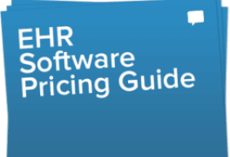 Medical, EMR & EHR software Pricing Guide
Don't let price confusion keep you from selecting the best software!