Tech Support Availability N/A



Worst buying experience ever. Salesperson was unresponsive and unable to negotiate at all. Months into contract negotiations they just said they could not agree to our University terms (we are a major western University that does business with literally thousands of vendors daily). So bye bye. No idea how good their software really is as they would not let us have a trail account either. Run away from these jokers.


System update brings a lot of easier ways to do things. New features make the most of the scheduling system. The tech staff is always helpful. Overall, I like working with the system.


Great! Very easy to learn. Has a lot to offer to make your clinic and office more effective.


Be very wary of this company. My experience with this company is the #1 biggest mistake and disappointment of my medical career. The software is dysfunctional. Updates are not relevant, and the company is completely unresponsive to concerns. On the plus side, it is very expensive, and they continue to suck money from you indefinitely.


Read All Read All 11 Reviews Reviews
Free Resource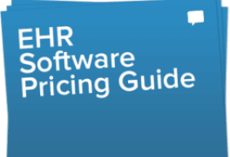 Medical, EMR & EHR software Pricing Guide
Don't let price confusion keep you from selecting the best software!