ChiroFusion is a cloud-based electronic health record (EHR) solution designed for chiropractors to manage key clinical activities such as scheduling, reporting and billing.
ChiroFusion offers integrated practice management features that allow practitioners to schedule and manage patient appointments, send appointment reminders to both doctors and patients, create reports and bill patients for medical services. Appointments can be booked, confirmed, rescheduled or canceled via an email or text message, allowing clinics to track daily bookings, no-shows and cancellations.
ChiroFusion allows clinics to create SOAP compliant notes, submit claims to insurance companies and process payments electronically. Medical documents and clinical records are automatically backed up in an online repository in real-time. A self-service portal allows patients to check-in using an iPad or tablet, submit medical history, access prescriptions, pay bills and more.
It is available as a monthly subscription. Support is offered via online webinars, phone and email.
Tech Support Availability N/A



I love ChiroFusion. I have been using it since 2016 and it has worked flawlessly for my practice. The support staff was amazing when we started. They continue to add valuable features to the program. It's nice knowing that they are just a quick phone call away if I ever need to reach out. Love the entire team at Chirofusion!!!


Best software. Easy to use and easy to learn the system. Tried others and saw demos of others and ChiroFusion runs rings around other products that claim to be better. Simply the best for my practice. suits all my needs. Keeps track of all my plans and counts down visits left from my office packages. I never have to worry how many visits a patient has in their specific plan. Thanks Dr. K


ChiroFusion is great! The program is extremely user friendly and if you do ever run into problems the support team is prompt to respond. I appreciate how much this software has streamlined my practice and having new patients receive and complete the online intake forms really speeds up the in office visit. They're happy to complete the paperwork comfortably and at their convenience at their home or elsewhere, which also allows them to get in and get out in a reasonable amount of time for their first visit. Thank you ChiroFusion!!!


This is the software I use at my office. It significantly cuts down on documentation time and allows me to focus on my patients. It generates really quite compliant documentation if you customize it even a little bit and it integrates for free with Office Ally for ease of billing. Very happy with ChiroFusion.

George K. Petruska, DC, DACRB

I am a former user and consultant to TGI software. I was in the process of looking for a new program. I researched a lot of the Chiropractic programs. I liked ChiroFusion the best. ChiroFusion is a user friendly true cloud based solution. I like that my claims clearing house Office Ally is already integrated into ChiroFusion. This makes your claims really simple. This reduces the steps needed to process claims. The note and exams areas are excellent and well designed with a comment box in every section that allows you to add your own macro's creating a custom note, exam or report. One of the keys to getting paid is documentation. ChiroFusion will get you paid. I have a Rehab Practice and treat a lot of PI and Work Comp cases. Attorneys are impressed by my documentation. No matter what type of practice you have this is an excellent choice for your office. The program is in expensive and offers a lot of value for your dollar. I would highly recommend ChiroFusion.
Read All Read All 174 Reviews Reviews
Free Resource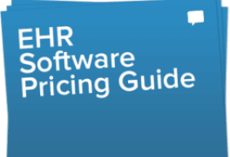 Medical, EMR & EHR software Pricing Guide
Don't let price confusion keep you from selecting the best software!