CHIROSPRING is the #1 cloud-based software in chiropractic. We have every feature including online scheduling, online intake, appointment reminders, SOAP notes, billing/claims/ERA reconciling, advanced reports, outcome assessments, time clock, user earnings tracking, integrated payments, Care Plans and so much more.
Through our powerful, easy-to-use software you can grow your practice by increasing patient visits, reducing staff and maximizing billing profits. We help doctors save valuable time that can be wasted on SOAP notes or tracking down unpaid insurance claims.
CHIROSPRING provides every feature necessary to grow a practice of any size. This includes large multi-location practices. We serve many 20+ location businesses throughout the nation.
You will find features like online scheduling, online intake, virtual front desk, SOAP notes, billing/ERA reconciliation, advanced reporting, care plans, time clock, user earnings tracking and more. CHIROSPRING has everything in one simple to use software.
Tech Support Availability N/A

Read All Read All Reviews Reviews
Free Resource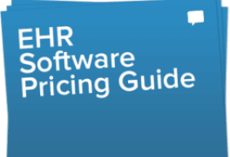 Medical, EMR & EHR software Pricing Guide
Don't let price confusion keep you from selecting the best software!