About DentiMax
Experience navigation that mirrors your workflow with critically tested and acclaimed cloud and server-based dental software. With sophisticated tools and advanced features, discover how to make your practice a digitally managed masterpiece.
Tech Support Availability Monday-Friday from 8:00am to 6:00pm PT



Our staff so much appreciates all of the help and support from your company. Zane H. was incredibly helpful and patient. Thank you!


"Fabulous product and supporting staff. The DentiMax software serves our practice well. It is solid and stable. The software allows us to create our own reports. This made our transition from paper to computer very comfortable. I know if our practice needs change, we can always have DentiMax write a new report template for us. We have been using this software for many years and are very satisfied. I am very satisfied with this product and its staff."


Very positive experience. I just bought new DentiMax software and digital sensors and next week I will start to use it , my experience with the person who explained me everything about software and sensors, and promotional packages before my purchase is simply wonderful. Very customer oriented, helpful, kind, prompt with replying email and answering all questions. Very positive experience with her definitely made positive impact and made contribution for me to proceed with purchase of this software. I hope my future experience with this company will be as wonderful as experience with her.


The only mistake I made was not buying these sooner! The images are phenomenal and the patients as well as staff love the slim sensor design. I also love how images bridge over to virtually any practice software. The company remoted in and set everything up for us. Customer support has been fast and efficient with both phone calls and emails. Definitely one of the best purchase decisions I've made in a very long time!


I used Dentimax practice management software for 2 years at my previous dental practice. For the most part it is very user-friendly. I like the look of the appointment books, charting, etc. - it was not overwhelming and difficult to navigate like some software programs. The support team is very nice but being central time zone, there were some issues with timely resolution of problems, that's why I'm giving 4 stars.
Read All Read All 25 Reviews Reviews
Free Resource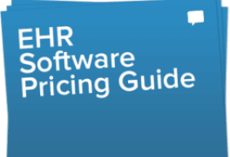 Medical, EMR & EHR software Pricing Guide
Don't let price confusion keep you from selecting the best software!