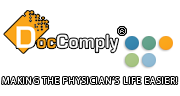 eDocComply EMR/EHR Software
What is eDocComply EMR/EHR Software?
About eDocComply EMR/EHR Software
eDocComply™ is a certified solution leader for practice workflow, EMR/EHR and revenue cycle management.
For years, private physician practices throughout the nation have relied on DocComply®. Our suite of user-friendly digital solutions was developed by doctors for doctors, as a secure, fully integrated approach that simplifies workflow, eliminates paper, saves time and relieves back-office headaches.
Creating Peace of Mind
Secure data and fail-safe backup are expected. Outstanding technical competency is a given.
Our professionals work with each practice to build a secure digital platform capable of handling the full spectrum of patient and practice needs…and flexible enough to smoothly accommodate upgrades and other improvements.
A platform that…
Is fully HIPPA compliant
Uses the highest level of encryption through SSL for data transmitted to and from our servers
Stage 1 Meaningful Use Certified
With DocComply® as a partner, you get a comprehensive, easy-to-use software solution that meets your changing needs.
eDocComply EMR/EHR Software User Reviews