About E-Z BIS Office
The E-Z BIS electronic health record (EHR) module makes it easy to record patient health information, enter daily notes and generate complete, professional narratives, SOAP notes and other health documentation. E-Z BIS EHR is completely integrated with the billing, scheduling and other features of the E-Z BIS Office practice management software.
E-Z BIS Office is a uniquely-designed software package for chiropractic practice management. E-Z BIS software is modular in design, meaning that you can choose just the combination of features that best fits the needs of your office. The complete E-Z BIS Office unites the powerful Billing System with Front Desk for appointment scheduling, EHR for fast, great-looking documentation and Collection Desk for advanced collection tools and powerful insurance payment posting features.
E-Z BIS Office User Reviews
Free Resource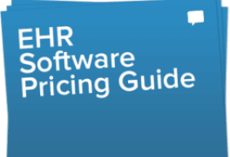 Medical, EMR & EHR software Pricing Guide
Don't let price confusion keep you from selecting the best software!