About PARIS by Encore
Encore Associates' Patient Automated Record Information System (PARIS) provides for on-line, real-time access and maintenance of patient medical data. It contains a generic patient profile record and five types of event records for each patient. The five types of event records are: Office Visit Events, Laboratory Events, Hospital Admission/Discharge Events, Immunizations and Medication Events.
PARIS (Patient Automated Records Information Systems) is a comprehensive electronic medical records (EMR) software package that can stand-alone and be linked to your existing practice management system, or be used as part of Encore's Complete Practice Management Suite, Encore/NXL. Encore understands that your practice is unique, and PARIS has been developed to allow for a flexible encounter flow to fit your needs. Encore Associates, Inc. can provide customized software to meet any individual practice's needs. Links to existing lab or pharmacy software, interfaces with current clinical decision support, and much more. Don't let your software get in the way of your business - let PARIS enhance your practice & allow you to focus on your patients' care.
PARIS by Encore User Reviews
Free Resource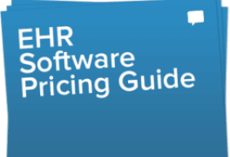 Medical, EMR & EHR software Pricing Guide
Don't let price confusion keep you from selecting the best software!