EyeMD EMR Healthcare Systems provides electronic medical records (EMR) and DICOM imaging solution designed for Ophthalmology practices. Further, the solution caters to ophthalmology sub-specialties that include Retina, Cornea, Pediatrics and Glaucoma. The solution offers functionalities and modules such as image management, practice management and patient self-service.
Within EyeMD EMR's Visit Summary, users receive automated visual alerts of patient's conditions. Further, it can consolidate information received across multiple visits and can choose to only view filtered data.
Visit History tool allows practice staff to view and analyze patient findings over time in side-by-side comparison views, review past medication histories and access previous diagnostic tests. The solution comes with Fast Plan feature that automatically creates treatment plans when specific diagnostic codes are used. Coding tool helps select billing codes that will generate the appropriate level of service.
Tech Support Availability N/A



Awesome and professional staff with a great product and service.


Great company to work with. Amazing EMR and even better staff!!!


Read All Read All 3 Reviews Reviews
Free Resource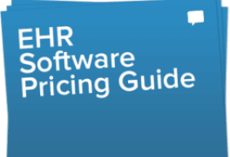 Medical, EMR & EHR software Pricing Guide
Don't let price confusion keep you from selecting the best software!