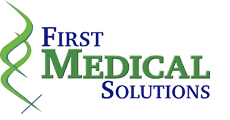 First Medical Solutions Corporation
What is First Medical Solutions Corporation?
About First Medical Solutions Corporation
First Medical Solutions is at the forefront of technology defining the future of Electronic Medical Records (EMR) System. The state-of-the-art comprehensive system includes: health information management, results management, order management, decision support, patient education, and administrative processes.
Vision of First Medical Solutions is to increase productivity, efficiency, and quality of care in the medical community and make complete health information securely available to patients by developing highly intuitive, state-of-the-art clinical information systems.
Successful health information systems accommodate the way you work. To accomplish it, we have assembled an unparalleled team of physicians, software developers, trainers, and support technicians, whose experience and dedication together produced the finest FirstEMR, the electronic medical records system available today.
Spending less time on mundane administrative processes allows healthcare professionals more time to spend in the real, visceral medical arena, where the beating heart of healthcare lay. Avoid diligently revenue-robbing bureaucracy that continues to hold back your practice. FirstEMR has been carefully designed to put patient information at your fingertips in a logical, predictable, and easy-to-understand manner.
First Medical Solutions Corporation User Reviews