What is FreeCHIRO EHR Software?
About FreeCHIRO EHR Software
FreeCHIRO is a free medical billing software and EHR software that is tailored specifically to the needs of the Chiropractic community.
Free Chiropractic Billing Software
CMS-1500 Billing Software
Specifically for Chiropractic Billing
5010 Compliant. HIPAA Compliant
Bill Cash, MVA, WC, PI. & All Payers
Free Chiropractic EMR Software
ONC-ATCB Certified EMR
The Look and Feel of Paper Charting
Built in Encounter Sheets
Totally Customizable By You (DIY)
Advanced Software
Specifically for Chiropractors
Provided Totally 100% Free
Billing & Certified Chiropractic EMR
FreeCHIRO EHR Software User Reviews
Free Resource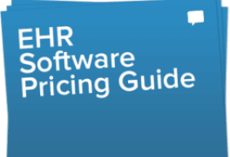 Medical, EMR & EHR software Pricing Guide
Don't let price confusion keep you from selecting the best software!