H-Dox Bioinformatics, Inc.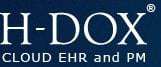 | | |
| --- | --- |
| Company: | H-Dox Bioinformatics, Inc. |
| Address: | 765 Teaneck Road |
| Practice size: | > 1000 Physicians, 1 Physician, 101-250 Physicians, 11-25 Physicians, 2 Physicians, 251-1000 Physicians, 26-50 Physicians, 3-5 Physicians, 51-100 Physicians, 6-10 Physicians |
| System type: | Web/Cloud Solutions |
| Additional criteria: | Drummond Certified |
| Product Name: | H-Dox EHR |
H-DOX is the most complete and user friendly EHR and practice management. Fully web based H-DOX requires no servers, software or expensive hardware. H-DOX EHR is developed with funding from the U.S Centers for Disease Control and Prevention, and this helps us lower the cost for our practices.
With H-DOX you can rest assured that cutting edge innovation in medical informatics is brought you before every other EHR. This gives your medical practice a great competitive advantage. H-DOX's clinical data structure was reviewed by expert panels from Columbia University Biomedical Informatics, and our product was subjected to rigorous usability tests by Columbia University Usability Labs. The project advisory board includes researchers and staff from the CDC Prevention Research Centers Program, and eight other medical centers and universities.