What is Holt Systems, Inc?
Specialities
Cardiology
Emergency Medicine
Family Med
Gastroenterology
General Surgery
Internal Medicine
Internal Medicine Sub-Specialty
Multi-Specialty
Occupational Medicine
SurgiCenter
Urgent Care
About Holt Systems, Inc
eMedRec is a hybrid records solution that combines the power of enterprise document management with robust EMR features.
eMedRec flexible structure adapts to fit the practice rather
than forcing the practice to adapt to fit the software.
Users may be trained on this intuitive solution in minutes.
Holt Systems, Inc User Reviews



I would have to agree with others. No customer support whatsoever. My gen is broke down and know one at general can tell me when they will have the part. As if who really cares. Not a very good answer to give a customer who spent thousands of dollars on their equipment and warranty!


Love my General generator for my home. Very convenient to have for power outages.


These other reviews are apparently from other generator competitors Generac Manufactures the best Generators on the market hands down reliability and longevity are the key attributes . And Generac has them all Don't pay attention to these fake reviews. That have been brought to the attention of the reviewers . I should know not only do i own a Generac and have for years without 1 problem i also own a generac dealership and servicing firm . So buy the best GENERAC # 1 SIncerely lyle Amundson LA LA"S CUSTOM POWER AND LIGHTING Nashville Tn


PSA if you are looking for a backup generator for your home, Generac is a fraudulent company. I purchased a generator back in March and they still haven't installed it. I have received texts every other week pushing the install back. I had no choice on the licensed dealer that they sent out. He signed me up for the credit card I've made 3 payments and they have installed the concrete pad, the gas line, the panel and they still haven't installed the unit. This dealer has 2 BBB claims. Generac has done nothing to help they said they would call him and haven't solved it or refunded me. I have been patient with this process for months but enough is enough. Please don't make the mistake I made and buy a generator from them for your home. Please share this Oh and they just took their website down.


I bought two 7,000 watt generators, one for my home and one for daughters house on 10/24/14. Mine worked fine, no problems. My daughters generator was bad from day one. Motor blew up on start up after it was installed. Also had to replace the controller. Then the generator didn't work, they found that the brushes had to be cleaned and now the first of this year the switch went bad and had to have a $500.00 part installed not to mention $100.00 + truck charge for them to come out. Now the starter is going out. I called countless times after I bought the generators to talk with a supervisor and the girl that answered the phone refused to let me talk with one. They said I had to call and get a repair man out ( $145.00 ) each time and then the repairman would contact Generac . I have had nothing but problems trying to get hold of someone and then about two months ago I was finally able to talk to a supervisor and I sent all the information to her and requested a call or email back. I called several times again over the last two months as I never received a call back or any emails I called again today 05/03/19 and and finally was able to talk to the supervisor again and unfortunately she said she could not help me due to it being out of warranty. Well, I've been complaining about this from the day I had purchased it and no one ever responded to my request for help. Now I have no choice but to call the Better Business Bureau and file a complaint. As a disabled veteran and wanting to buy american maid products I would never buy another Generac due to the poor customer service I received throughout these couple of years to try to get them to replace this Bad (lemon ) generator.
Read All Read All 28 Reviews Reviews
Free Resource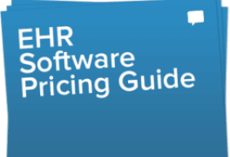 Medical, EMR & EHR software Pricing Guide
Don't let price confusion keep you from selecting the best software!