ICANotes is a software solution for behavioral health practices. Its key features include button-driven narrative charting capabilities, which enable clinicians to quickly create documentation.
ICANotes clinical notes can be made quickly and are narrative in form and individualized for the patient. The notes are specific to mental health and contain thousands of pre-existing content generation buttons, which are arranged in clinically logical ways.
ICANotes can also be customized to meet individual practice needs. The self-coding feature automatically determines the highest reimbursable E/M service code support by each generated note.
ICANotes is cloud-based, and it is best suited for midsize to large behavioral health clinics.
Tech Support Availability N/A



I have had a wonderful experience with ICA Notes, LLC. The product is amazing and the trainers are extremely knowledgeable. They are available when needed and provide as much training as needed to become an expert when using the program. It is by far the best program I have come across!


Have been using for many years. Great EMR with flexibility and excellent support team.


the site is way too slow. Contributes to delayed patient care. Customer support are friendly but not enough time to have to keep calling them. Extremely frustrating.


Read All Read All 4 Reviews Reviews
Free Resource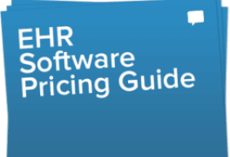 Medical, EMR & EHR software Pricing Guide
Don't let price confusion keep you from selecting the best software!