About Integritas, Inc
Integritas is a leader in software solutions for Urgent Care and Occupational Health. A 20-year veteran of the industry, Integritas software supports hundreds of thousands of patients throughout the US.
Agility EHR is an integrated clinical EMR and practice management system designed to meet the needs of Urgent Care, Occupational Health and Family Medicine. The software package is particularly well-suited for high volume clinics treating a mix of patients. Comprehensive yet easy-to-use, Agility EHR provides robust reporting of clinical, administrative and financial information. The software charts simple complaints in a fraction of a minute while still offering a robust charting function needed to document more complex problems. The software includes functions for quick and accurate documentation, billing, and collection of group health insurance, Medicare, Medicaid, Work Comp, self-pay and employer contract billing. It documents state and federally mandated exams, and includes state work comp forms that can be submitted electronically with claims without complex workarounds. Integritas also offers its Stix Practice Management software for those occupational health providers who do not need an EHR, or are not ready to install an EHR. An easy upgrade path is available in the event that a certified EHR is later needed by a Stix Practice Management client.
Agility EHR and Stix Practice Management are both offered on an installed or hosted basis.
Integritas, Inc User Reviews
Free Resource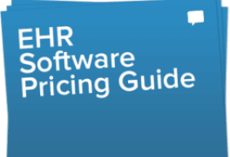 Medical, EMR & EHR software Pricing Guide
Don't let price confusion keep you from selecting the best software!