KanTime Healthcare Software is an American based healthcare technology company that is the fastest-growing post-acute software provider in the nation with over 912,000 patients, 210,000 users, $12.9 billion in processed claims, and 70M annual visits. We provide cloud-based enterprise software to home health, hospice, pediatric, private duty, and consumer-directed services agencies. KanTime helps agencies improve clinical compliance, increase operations efficiency, and achieve financial success. KanTime works seamlessly on any point of care device be it iOS, Android, or Windows-based, both online and offline. Additionally, KanTime offers robust business intelligence tools that allow upper-level management to drill down into various clinical, financial, and operational KPIs and act accordingly. For more information visit www.kantime.com.
Tech Support Availability N/A

Read All Read All Reviews Reviews
Free Resource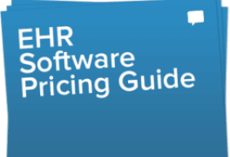 Medical, EMR & EHR software Pricing Guide
Don't let price confusion keep you from selecting the best software!