Kareo is a Web-based EHR, medical billing, and practice management used by thousands of physicians across the United States. This system suits small practices and billing companies. With Kareo, practices can schedule patients, confirm insurance, manage delinquent accounts and the collections process, store patient documents, develop customized reports and more.
Practices can be up and running within 48 hours of signing up. The system starts at a low monthly rate with no contract, no set-up fees without the worry of maintaining and updating the software.
Kareo Clinical EHR can be used across a wide variety of medical specialties, including mental health, family medicine, pediatrics, cardiology, chiropractic, podiatry and more.
Operating Systems
Android
iOS
Linux
MacOS
Web
Windows
About Kareo Clinical
Kareo Clinical is surprisingly easy to use. Let us show you how easy it is to write notes and prescriptions, code encounters, and manage patients in our fully integrated, cloud-based EHR.
Tech Support Availability N/A
Kareo Clinical User Reviews



Kareo is a good software, a good innovation. Multiple functions come together make things simpler. But it is also limited and need further development. Such as more filters and sorting functions (like the most recent payment date, only show patient who only received one statement...) to make patients into smaller categories when user searching.


Use it for years, and having troubles with a lot of things.Lately unable to print out forms for "proof of timely filling" for weeks. Contacted with them for many times, but never been fixed. Definitely not recommended.
Read All Read All 2 Reviews Reviews
Free Resource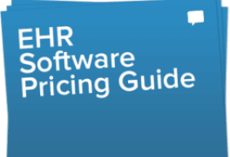 Medical, EMR & EHR software Pricing Guide
Don't let price confusion keep you from selecting the best software!