MaximEyes, developed by First Insight Corporation, is a comprehensive electronic health record (EHR) and practice management solution designed exclusively for eye care clinics.
The latest version is written in HTML5 with a clean, modern user interface. It runs in the Chrome browser on any computer OS. It is configured for the cloud but it can also be deployed via a local server for offices with poor Internet.
Exam templates can be customized to fit various workflows and types of visits. MaximEyes EHR includes a modifiable rules engine that will suggest or automatically post diagnostic codes, procedure codes, alerts, plans and outbound documents. Exam findings automatically trigger the codes and documents to speed up the final part of the exam documentation.
First Insight also offers medical billing services and an eye care image management solution that works with any EHR.
About MaximEyes
Exceptional Customer Support is Our Top Priority.
Tech Support Availability 24/7



See you in and out. You wait long enough for the paper work to get to the dr. And 1 week for you glasses to come in.
Read All Read All 1 Reviews Reviews
Free Resource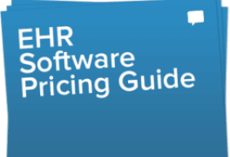 Medical, EMR & EHR software Pricing Guide
Don't let price confusion keep you from selecting the best software!