What is WebChart EHR Software?
About WebChart EHR Software
WebChart EHR is a Web-based longitudinal patient record that can be adopted all at once or in scalable increments best suited for your practice. WebChart modules include full document management, dictation, transcription, exam template, order entry, med entry, prescription support, patient education, and other components. WebChart observes major interoperability standards, including IHE profiles, HL7, DICOM, CCR and CDA. WebChart integrates data from internal ambulatory documentation, practice management systems, labs, RIS/PACS, hospital interfaces, and from personal health record (PHR) systems. WebChart supports multiple forms of data entry to document patient encounters, orders and other components of the patient visit. Authorized users can securely access the patient record, create tasks, create orders and generate encounter information from any Web-enabled PC at home, the office, clinics, or the hospital.
WebChart EHR Software User Reviews
Free Resource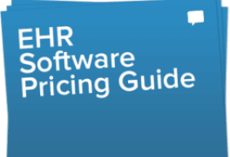 Medical, EMR & EHR software Pricing Guide
Don't let price confusion keep you from selecting the best software!