About MedScribe Inc.
MedScribe is a comprehensive solution designed for use by small & mid-sized practices providing Ambulatory care. Designed by Doctors & built by a Software company with 20 years of IT background, MedScribe uses the latest technology & features to give the system an edge over the competition.
MedScribe Inc. User Reviews



My time working with Med-Scribe was wonderful. This was my first time using a staffing agency and my experience was wonderful. They made the hiring process very easy and were so helpful! The staff is kind, patient, and helpful. They were always available to answer any questions I had. I took the typing test in a private room all by myself, which made the experience less stressful. They even offered to let me take it more than once if needed, although I only took it the one time. The interview experience was also very positive, the staff made me feel comfortable and relaxed and were receptive to any/all of my questions. They also made the hiring process extremely easy, setting up my interview with my now-employer, and they notified me of the job offer almost immediately after my interview took place. Throughout my time working for med-scribe, they were very flexible to any of my schedule changes and provided consistent feedback. They were on time with my payments every weeks and were so kind as to pay for my temporary parking pass so that I didn't have to pay to park every day at work. I have nothing but positive things to say about Med-scribe!


Medscribe has made me feel comfortable and like "a person". Their company is very helpful and always guiding me. If I have a bad day at work, Sometimes the e-mails from Med-scribe just make me feel more strong willed and hard working. You earn what you work for and I work very hard...Also team work is very important! The only con I would have to say is that there is no paid holidays (under 240 hours I believe). I started at the worst time though ...Before Thanksgiving, had off Black Friday (my office was closed), shortened hours Christmas Eve, New Year's Eve, then off Christmas and New Year's Day was very difficult paying for daycare, Christmas and bills.


I had been struggling to find the perfect new location, and MedScribe made this quick and easy. After a short meeting I interviewed with a company that seemed perfect and had an offer within a few days. They are very thorough and efficient the and give all Information up front on their process. Love our working going relationship.


Med-Scribe is one of the very best companies I have ever worked for. They are very thorough, organized, well informed and very helpful with any questions I might have. They are very proficient in finding suitable positions in a timely manner that match what I was looking for. Payroll is always on point and direct deposit right on time, every time, and if not, they bend over backwards to make it right.


After spending months looking in vain for a job, I was contacted by Med-Scribe I felt like I was thrown a life line. The team there is so helpful and friendly. From the moment I walked in the door I made to feel that I was needed, and when you have been looking for a job for so long that is a great feeling. I was sent on an interview shortly after and was offered a placement the same day. The staff is always availble to answer questions and is truly invested in me doing well in my placement.
Read All Read All 80 Reviews Reviews
Free Resource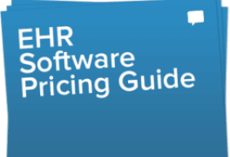 Medical, EMR & EHR software Pricing Guide
Don't let price confusion keep you from selecting the best software!