NephroChoice is an iSalus solution offering electronic health records and practice management software geared towards Nephrology practices of any size. We provide tools to manage office visits, hospital rounds, and dialysis rounds all in one convenient application delivering a truly comprehensive view of a patient's medical record. The advanced dialysis management features can automatically identify patients that have not met the four-visit threshold for dialysis to assist your team in deploying resources to the right location at the right time.
An accompanying mobile app for iOS and Android features dialysis rounds, hospital charges, charting, a secure communication platform, ePrescribing, mobile imaging, and voice dictation. This allows nephrologists that are traveling from location to location to have access to the most critical parts of a patient chart on the go.
Lab results are the lifeblood for a busy nephrologist. Our integrated electronic lab results allows providers to view trends for a patient over time in easy to use graphs. These labs and graphs can also be incorporated into the visit note so that referring providers stay well informed.
Tech Support Availability N/A
NephroChoice User Reviews

Read All Read All Reviews Reviews
Free Resource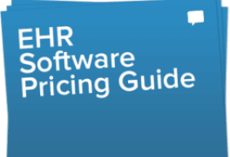 Medical, EMR & EHR software Pricing Guide
Don't let price confusion keep you from selecting the best software!