What is Nextech Practice?
Operating Systems
Android
iOS
Linux
MacOS
Web
Windows
About Nextech Practice
Nextech's seamless, end-to-end solution suite empowers specialty physicians to work smarter, not harder. Prevent disjointed data with the largest fully integrated healthcare IT solution.
Tech Support Availability N/A
Nextech Practice User Reviews



Awesome service, the internet is incomparable to competitors and tv is sleek and new


Very nice & courteous staff!


Business support is always spot on. Installers always do there best to make it look good and function. Great people to work with.


We had a new phone system installed at Thunder Ridge Middle School. Nextech did a great job of installing our phone system. Nextech completed the installation in a timely fashion allowing us to go about our day with few disruptions.


If I could good give them 0 stars I would. We have had so many issues with their internet services. The first problem that we had encountered was when we had first got set up with them. They had sent out the welcome email to the right email address, but the bills had been being sent to a different email that didn't even exist. Then we had set up automatic pay and had thought it had worked cause we hadn't received anything via email, mail, or phone call with them. Then apparently it was not working so our bill hadn't been paid for 2 months. So then when we moved we had been in contact with a lady several times and each time we had called she had never mentioned on our account that we had anything due or that our account was suspended. They lack communication skills very badly. Then we recently called back because our wifi had stopped working and thats when they proceeded to tell us that our account had been suspended and that our bill hadn't been paid because they said that auto payments were turned off which we had not done. We still once again received nothing via email, call, or mail. So my advice to anyone that is looking into Nex-Tech, don't waste your time or money since all they do is rip you off.
Read All Read All 58 Reviews Reviews
Free Resource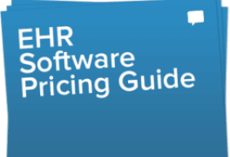 Medical, EMR & EHR software Pricing Guide
Don't let price confusion keep you from selecting the best software!