What is NexTech Systems, Inc?
For more than 20 years, Nextech has provided a full-featured EMR and Practice Management solution within a single database. This system is a fit for dermatologists, plastic surgeons, ophthalmologists, and physicians, and is used by approximately 7,000 providers and 50,000 office staff worldwide.
The web-based, multi-platform system has a native mobile app where physicians can check appointments, view patient profiles, and access all EMR information from anywhere. The iPad app is built to recreate the feel of a paper charting system, integrating patient photos for personalization, and allowing physicians to draw directly on photos and images. Doctors can flip through patient documents as if they're paper, view lab results and make to-do lists from the app's dashboard view.
As a modular system, Nextech is adaptable to a practice's individual needs. Additionally, the system is pre-configured with customizable forms and specialty-specific content. There's an optional patient portal available so patients can update their information from anywhere, whenever it's most convenient for them.
Specialities
Bariatric Surgery
Cardiology
Dermatology
Gastroenterology
Ophthalmology
Plastic Surgery
Urology
About NexTech Systems, Inc
A powerful and complete marketing, billing and Electronic Medical record Software solution, Practice 2011 is modular, fully integrated designed to meet the needs of offices of all sizes, from the newest startup to the largest established practice. It offers website integration, mass e-mailing and e-billing. It links to photo imaging, CareCredit, Smart Phones, tablet PCs and barcode scanners.
NexTech Systems, Inc User Reviews



Poor experience before and especially after they received advance payment. Paid this company >$25K in advance for implementation of medical software that was not even completed because their product did not integrate and perform the tasks as promised. Contacted company staff including CEO multiple times without resolution of issue- or even a reply. Lawyer is now handling this unresolved matter to pursue resolution of this claim. I would strongly advise another vendor and bypass their booth at medical trade shows.


Worst company, no sympathy, no integrity. My staff and I spent countless hours trying to work with this company and use the software that is rightfully ours because of the thousands of dollars we've spent. Our power goes out, a simple shut down of the computer and BOOM another couple thousand dollars we have to pay to get our software running again. The worst part is we are a medical facility. We have patients with allergies, medication we have to disburse, and this company holds the patients hostage basically and wont let us see our patient information until we pay them for no reason. We've paid our dues always. Imagine if your mother was a patient and we were not able to pull up her information. Please think twice about using this software for your company.


This guy said I "BANGED" his car. But as you can see from the pictures, he's just a creeper. The shirt on his name says Mike and his truck number is 420.


Nextech is a wonderful place to work. Our team is amazing and getting better all the time.


Not a great interview experience
Read All Read All 26 Reviews Reviews
Free Resource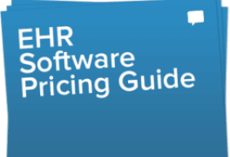 Medical, EMR & EHR software Pricing Guide
Don't let price confusion keep you from selecting the best software!