Nexus EHR is an ONC 2015 Edition certified cloud-based ambulatory EHR. It is designed for small to midsize practices and a variety of specialties including orthopedics, neurology, podiatry, cardiology, general surgery, pain management, family medicine, etc.
Key features include patient charting, e-prescribing with EPCS, lab integration, document management including online scanning and online document/forms templates, DICOM imaging, e-fax and self-service capabilities for patient information. Nexus also offers telemedicine features for contact-less patient visits.
Nexus EHR can be tailored to practice needs with customizable templates. Users can choose from various ways of documenting chart notes with tools such as customizable templates, free text, voice-to-text and traditional transcription.
Operating Systems
Android
iOS
Linux
MacOS
Web
Windows
Tech Support Availability N/A

Read All Read All Reviews Reviews
Free Resource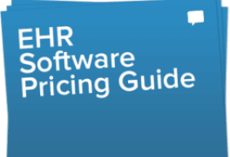 Medical, EMR & EHR software Pricing Guide
Don't let price confusion keep you from selecting the best software!