About NueMD EHR
The NueMD ® certified electronic health record (EHR) software uses secure Internet-based technology, just like NueMD's medical practice management system. It allows users to chart, code and share information with other providers and lab systems simply and quickly.
The NueMD EHR Version 3.12 is compliant and has been certified by the Drummond Group, an ONC-ACB, in accordance with applicable certification for eligible providers adopted by the Secretary of Health and Human Services.
NueMD offers a robust yet flexible method to record encounters, allowing you to tailor your EHR to your practice's workflow, not the other way around. NueMD features a variety of encounter types and an extensive library of templates tailored to your specialty, but you can also import your existing flowsheets and create new ones at any time. Choose to input information either using a tree structure or notes, with the option of pre-populating clinical information for maximum ease of use.
Additional NueMD EHR features include:
Template and encounter type library
E-prescribing
Flow sheets to track labs, vitals, and more
Specialty-specific tools and content
Easily customizable preferences
If you are looking for a solution designed for your specialty, NueMD offers interfaces with many specialty-specific electronic medical record (EMR) and electronic health record (EHR) software providers.
Free Resource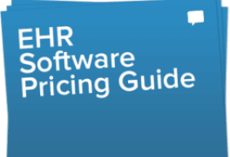 Medical, EMR & EHR software Pricing Guide
Don't let price confusion keep you from selecting the best software!