What is OncoEMR by Altos Solutions?
OncoEMR is a completely web-based electronic medical record (EMR) for oncology practices. Oncology is an under-served specialty, with few EMR software vendors willing to take on the challenge of addressing the complex dosage management requirements in oncology. Altos Solutions, the company behind OncoEMR, has risen to the challenge and delivered a powerful oncology EMR solution delivered through a modern software as a service (SaaS) architecture.
OncoEMR provides critical oncology EMR functionality, such as SureScripts ® certified electronic prescribing, clinical benchmarking, regimen management, and visit notes. OncoMed also supports reporting for the Physician Quality Reporting Initiative (PQRI). The system is designed to be interoperable with laboratories, inventory management systems, radiology information systems (RIS) and practice management systems. OncoMed also offers a patient portal, SeeMyChart.com where patients can access their records, billing and appointments.
Because OncoMed is web-based, practices using the system can completely offload traditional IT functions, such as installing and maintaining servers, upgrading the system and supporting desktop installations. Instead, the system is accessed through a web browser and all software and data is managed in OncoMed's Class 1 data centers. Altos also handles all data replication and backup.
Oncologists looking for an EMR should evaluate OncoEMR for its specific focus on their specialty, as well as its modern approach to software deployment.
Operating Systems
Android
iOS
Linux
MacOS
Web
Windows
About OncoEMR by Altos Solutions
Workflow efficiency and speed are the most important goals for OncoEMR. Our oncology-specific workflows and features like Document Search are designed to reduce minutes of work down to seconds.
Tech Support Availability N/A
OncoEMR by Altos Solutions User Reviews

Read All Read All Reviews Reviews
Free Resource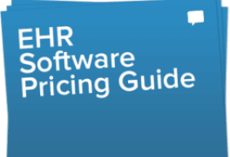 Medical, EMR & EHR software Pricing Guide
Don't let price confusion keep you from selecting the best software!