OneTouch EMR is a cloud-based EMR solution that helps practices including Internal Medicine, Family Medicine, and General Practitioners manage patient's medical history. The solution can be accessed remotely via mobile devices running on different operating systems like iOS and Android.
As an ONC-ATCB Certified solution, OneTouch EMR can be used by physicians looking to qualify for Meaningful Use. The solution is designed to provide reimbursements for doctors by helping them manage overall note-taking capabilities and providing a virtual Encrypt-and-MAC coding assistant.
OneTouch EMR offers support via online chat, tutorial videos phone. The solution can integrate seamlessly with several practice management and billing solutions or can be offered within the suite of the OneTouch EMR system. OneTouch EMR's suite includes scheduling, appointment reminders, document management, lab orders, e-prescribing, integrated fax, and more.
Services are offered on a monthly subscription basis in addition to one-time setup fees.
Operating Systems
Android
iOS
Linux
MacOS
Web
Windows
About OneTouch EMR
One Touch EMR is clean, powerful, and easy to use
Tech Support Availability N/A
OneTouch EMR User Reviews







Read All Read All 3 Reviews Reviews
Free Resource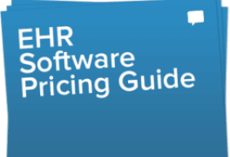 Medical, EMR & EHR software Pricing Guide
Don't let price confusion keep you from selecting the best software!